What's a sure thing to strengthen your father-son bond? Traveling! And The United States is filled with incredible destinations that offer a range of activities and experiences which can be enjoyed together.
From exploring national parks and hiking trails to visiting famous landmarks and cultural attractions; just lounging on the beach or enjoying a fun day at a theme park can make for some cherished memories down the years. So here are some awesome suggestions along with their best features, so all you have to do is start packing the bags.
Theme parks (Orlando, L.A., Wisconsin)
Is there anything more exhilarating than the adrenaline rush of a roller coaster? The anticipation and excitement leading up to the ride, the surge of wind in your hair as you fly down steep drops, the shared screams and laughter as you navigate through twists and turns. How fun is that?
Thrilling rides, fun attractions, and delicious food all combine to make a visit to a theme park an unforgettable adventure for fathers and their sons. So here are some top picks:
1. Orlando, Florida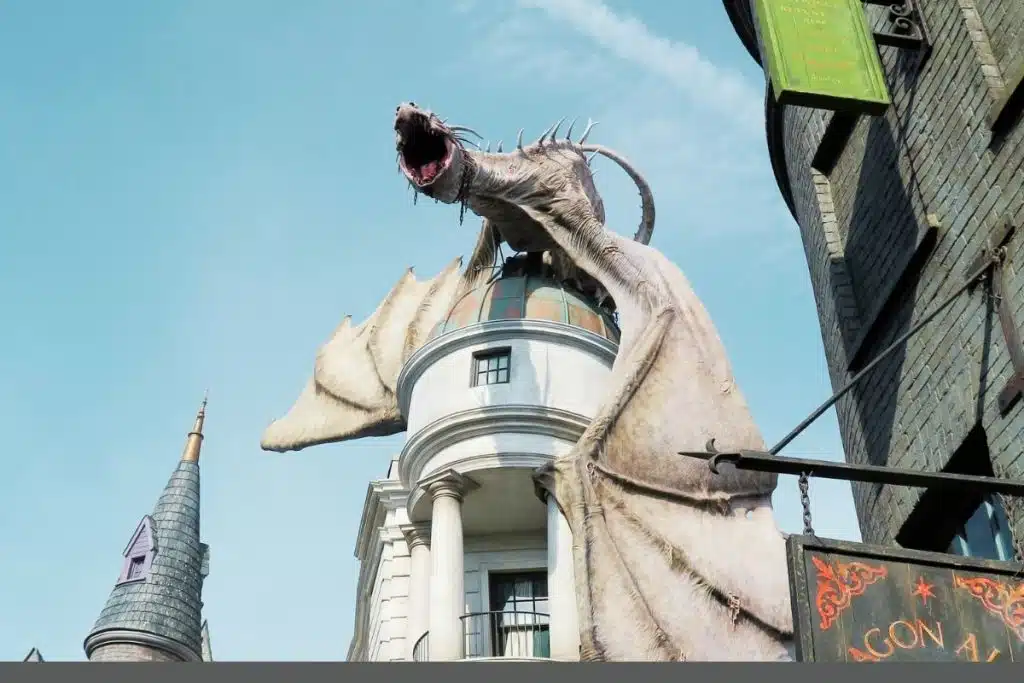 There may be things to do in Orlando other than touring theme parks, but let's face it, they are the reason Orlando exists. Mainly you and your son will need to decide between Walt Disney World and Universal Orlando. And the first thing you need to know is that both of these behemoths are actually multiple parks in one. Walt Disney World features the Magic Kingdom, Epcot, Disney's Hollywood Studios, Toy Story Land and Disney's Animal Kingdom, plus two water parks.
The Universal complex includes Universal Studios Orlando and Universal's Islands of Adventure, plus a water park. The Islands of Adventure Park is home to The Wizarding World of Harry Potter, an iconic destination for children old enough to have read the books and watched the movies. Of course, you could opt for a slightly smaller theme park and visit Discovery Cove, Legoland or SeaWorld. Whatever your choice, you'll never be at a loss for something to do in Orlando.
2. Los Angeles, California
The Los Angeles area rivals Orlando in its theme park offerings. You guys can travel to the classic Disneyland in Anaheim or its adjacent sister park, Disney California Adventure. Another option is Universal Studios with its classic Studio Tour and its 2016 addition, the Wizarding World of Harry Potter.
Thrill seekers may be partial to Six Flags Magic Mountain in Valencia, with its array of roller coasters. Knott's Berry Farm will appeal to those who want a slightly more low-key outing but one that still is loads of fun. Besides theme park adventures, you may be interested in other famed L.A. sights such as the Walk of Fame, the Hollywood sign, the Getty Museum, and the La Brea tar pits.
3. Wisconsin Dells
Photo Credit: sadie.parks
What kid wouldn't love a trip to the Wisconsin Dells, known as the Waterpark Capital of the World? Some lodges have their own indoor water parks, or you can opt for one of the sprawling outdoor attractions, which have features suitable for kids from toddlers on up. The area has other kid-friendly attractions, including go-karts, miniature golf and the Country Bumpkin Farm Market.
While there, be sure to enjoy the natural beauty of the Dells, best relished by boat ride. If your son has never taken a ride on an amphibious Duck, that's one way to see the sights, but a riverboat tour is a little more relaxing.
City adventures (Lousville, Kansas city, Washington D.C., Pheonix, New York, Chicago)
Cities can grant an exciting and enriching experience for both fathers and sons. Full of history and culture, they present a variety of activities that cater to different interests – sightseeing, visiting museums or parks, trying out local cuisine, attending sporting events, the possibilities are endless. So put on your exploring shoes and check out some urban wonders.
4. Louisville, Kentucky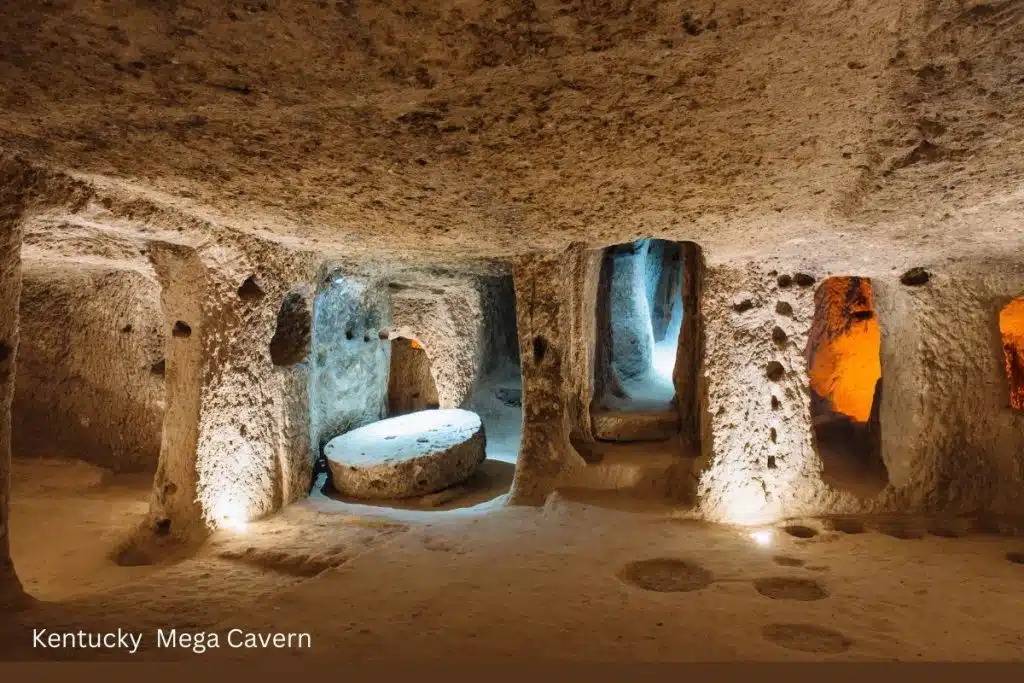 Take a tour of the factory that produces the Louisville Slugger and visit the museum, too. Make sure to smile for a selfie with the two of you in front of the world's largest baseball bat. Other Louisville attractions include Joe Huber's Family Farm and Restaurant, the Louisville Equestrian Center and the Kentucky Science Center. You can try the Mega Cavern, a man-made cavern that runs under Louisville for 17 miles and has its own zipline.
You can enjoy Waterfront Park, a free facility known for its swing gardens. If your trip lands during the two weeks before the Kentucky Derby, you'll be in town for Thunder Over Louisville, an annual event featuring hot air balloons, boat races, fireworks and lots of prime fun for fathers and sons.
5. Kansas City, Missouri
Famous for barbecue and jazz, Kansas City is also a great choice for a father-son trip. Little ones will be thrilled with Kaleidoscope, a free facility provided by Hallmark that offers art activities. There's Wonderscope, which is a children's museum, and a Legoland Discovery Center. Kansas City also has an excellent zoo and aquarium.
The Mesner Puppet Studio is a more unusual attraction but worth checking out. Older children and history buffs can call on the National WWI Museum and Memorial or take a short road trip to St. Joseph to see the Jesse James Home Museum. Known as "The City of Fountains," Kansas City has both eye appeal and meatier offerings and should mean enough excitement for both fathers and sons.
6. Washington, D.C.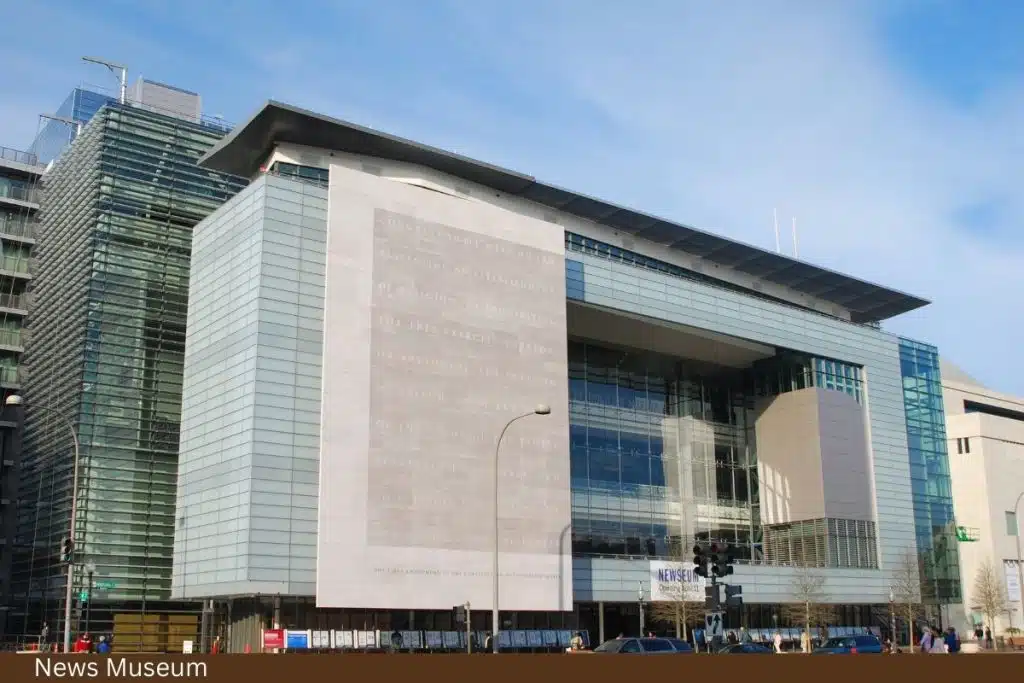 Every young American should visit their nation's capital, and Washington has plenty of treasures to discover. The various museums in the Smithsonian system have made an effort to include kid-friendly activities in a number of places. For example, Wegman's Wonder Space is an interactive exhibit in the American History Museum, and the Natural History Museum has an Insect Zoo.
The capital city also has a wealth of excellent, lesser known museums, such as the Newseum and the International Spy Museum. Check out the National Zoo and keep your eyes open for the many beautiful parks and natural areas sprinkled about. For some, riding the double-decker buses might be a once in a lifetime experience, and the hop on, hop off system lets you see the city's famous monuments either from a distance or close up.
7. Phoenix, Arizona
This desert megapolis has the attractions that you expect in most large cities plus a couple of unique points. The Musical Instrument Museum is one. You don't have to be a musician to enjoy this beautifully designed repository, which displays instruments from around the world. It also serves as a performance venue for a variety of artists. Mini Music Makers classes are provided for children from 1-4 years of age.
Phoenix's second unique attraction is the Hall of Flame Firefighting Museum, which may have the world's largest collection of firefighting equipment and memorabilia. If you're in Phoenix in the summer, be sure to scope out the water parks, swimming pools and splash pads, because Phoenix is hot, hot, hot!
8. New York, NY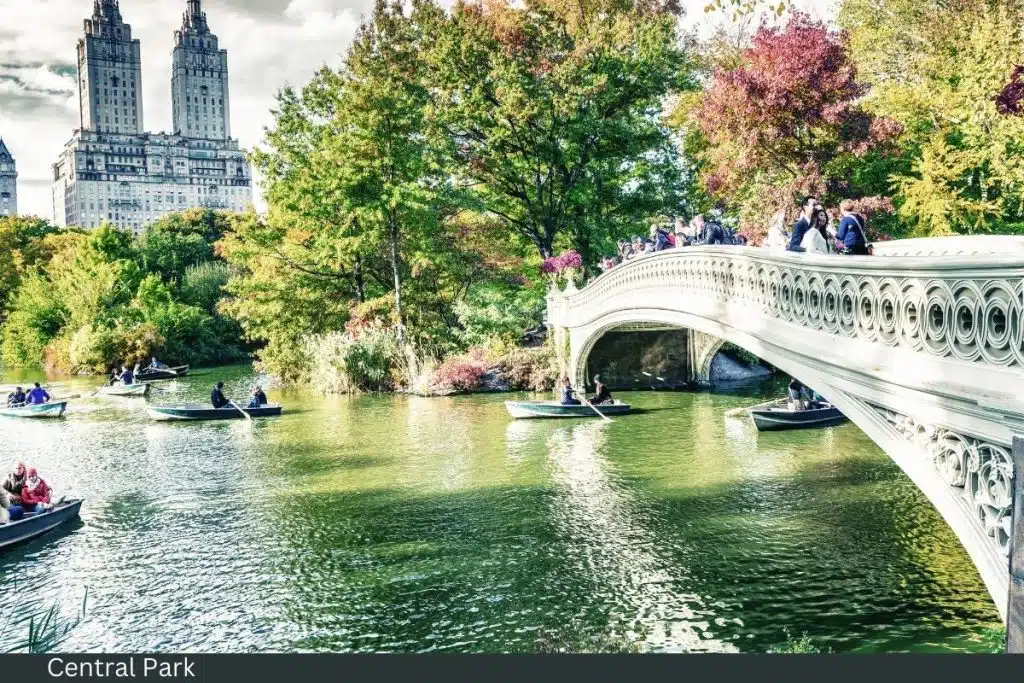 Visiting New York City with children can be a challenge, but don't worry, there is a multitude of attractions to engage kids of any age. Of course, you guys will want to stop at emblematic locations such as Central Park and Times Square. The Statue of Liberty is generally a prime objective, though you might decide to just cruise by on the Staten Island ferry.
For top-of-the-world views, you can opt between the One World observatory, the Top of the Rock at 30 Rockefeller Plaza and the classic Empire State Building. All three provide spectacular views. If your boy is 4 or older, Broadway shows can be a fun experience. Each season brings a number of choices that are suitable for kids.
If you want to introduce your son to the joys of museums, New York City is ideal. The metropolitan area displays six different children's museums, as well as special kid-friendly exhibits in other venues. Of course, your trip needs to include the iconic American Museum of Natural History.
9. Chicago, Illinois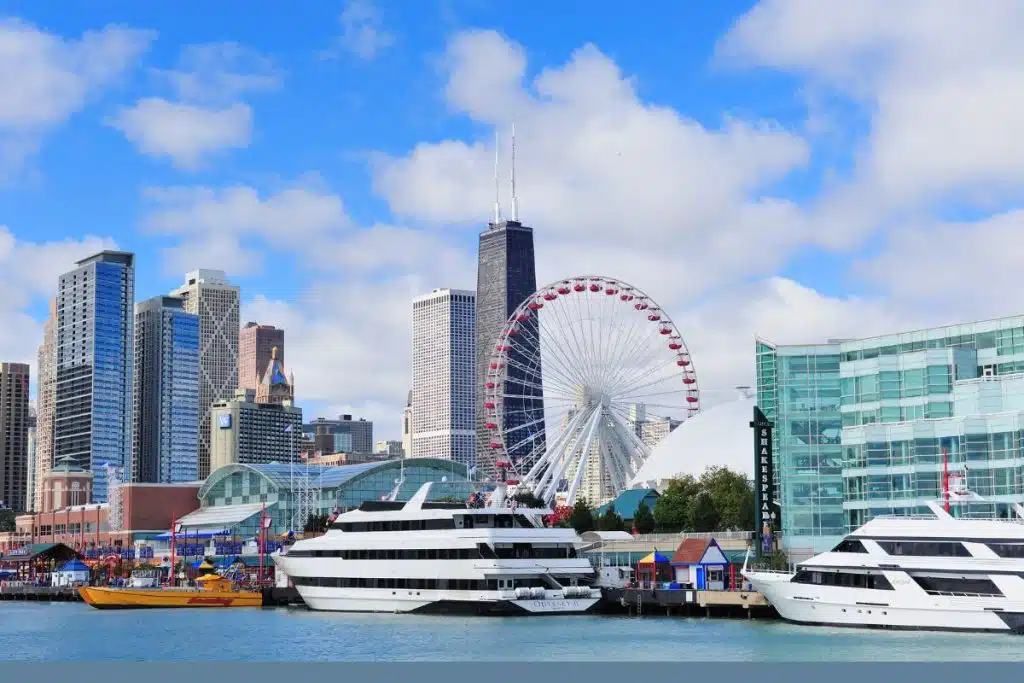 Any visit to Chicago with kids should include Navy Pier with its Centennial Ferris wheel. Willis Tower (the old Sears building) not only presents spectacular perspectives of the city but also a chance to stand on the Ledge, a glass box that extends over four feet out into the air, offering a uniquely thrilling view. Two great zoos, an aquarium and a planetarium make the Windy City a great spot for combining entertainment and learning.
Chicago is also an outstanding museum city, with the Art Institute, Field Museum and the Museum of Science and Industry leading the list. The metropolitan area is known for public art, with famous pieces by Miro, Picasso and Calder. Don't miss Cloud Gate, also known as The Bean, and Crown Fountain, both in kid-friendly Millennium Park.
Historical places (Huntsvill, Williamsburg, Outer Banks)
Exploring historical sites and learning about the past together can create a shared sense of connection and understanding, as well as a lasting memory. Visiting landmarks, museums, or national monuments can also help to cultivate a deeper appreciation for our nation's history and the sacrifices of those who came before us.
10. Huntsville, Alabama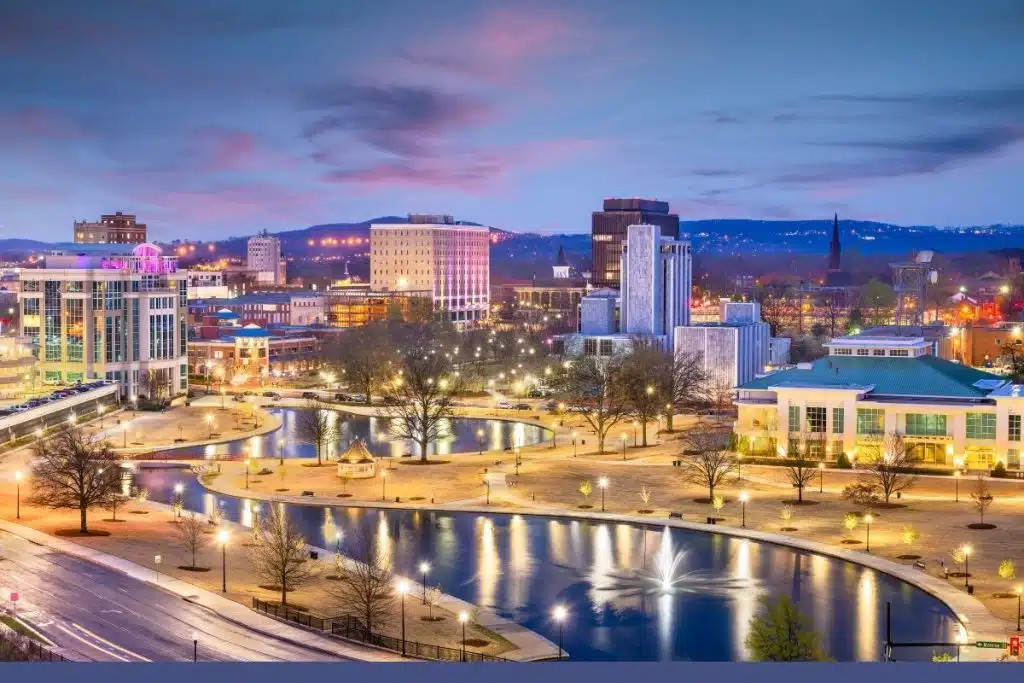 Huntsville has one foot in the future and one in the past, and you might say it's where history is either made or on display. Its most famous attraction is the U.S. Space and Rocket Center, which makes Huntsville a must-see destination for many families. The home of Space Camp, the center now presents a variety of space-themed camps for children and adults at all times of the year. Yet in Huntsville you never feel far away from the past.
History buffs will enjoy introducing children to living history at Constitutional Village, located on the site of the signing of the state constitution. If you would like a little natural beauty along with your history, check out Burritt on the Mountain, a mountaintop estate donated to the city which also features a historic park and lots of nature trails.
The Earlyworks Children's Museum bills itself as the South's largest hands-on history museum. Whether you want to rocket into the future or revisit the past, Huntsville is a perfect destination for a father-son vacation.
11. Williamsburg, Virginia
Advertised as the world's largest living history museum, Colonial Williamsburg covers over 300 acres and features sites that will transport you back to the 18th century. A little-known fact is that you do not have to pay admission to visit Colonial Williamsburg.
You can stroll the streets, talk to the living history guides, hit the shops and enjoy a historic meal without paying admission. A ticket is required to enter some old sections though. Wondering where to hang your hat? You can stay onsite at one of Williamburg's official hotels, choose a kid-friendly resort or find a more budget-friendly option.
12. Outer Banks, North Carolina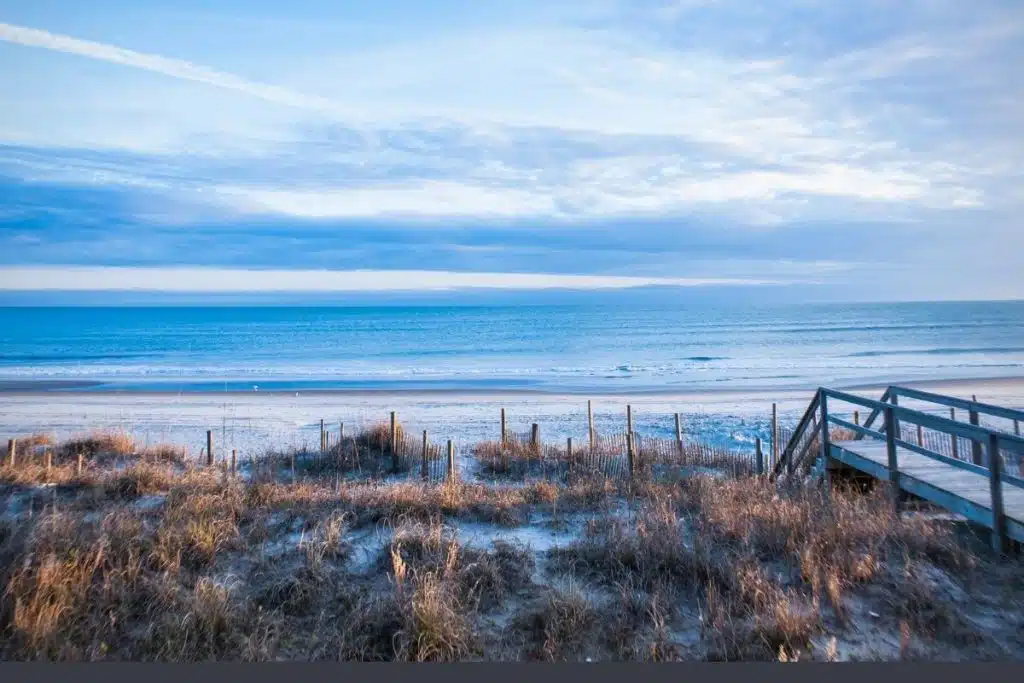 One of the most unique areas in the United States, the Outer Banks offers natural beauty, historical sites and five unique lighthouses. The Wright Brothers National Memorial in Kitty Hawk is a must-see. Roanoke Island Festival Park recreates the story of the earliest settlers in the area.
If your son is a horse-lover, don't miss the wild horses that live in about four locations on the Outer Banks. You may be able to spot them on your own, but tour companies do a good job of keeping up with where they can be seen. With over 100 miles of shoreline, the Outer Banks also allows for plenty of beach action.
National parks and outdoor adventures/activities go hand in hand(Yosemite, Snake River, Florida Keys, Sleeping bear, Yellowstone, arcadia)
When it comes to outdoor adventures, few places can rival the beauty and excitement of national parks. You get to disconnect from the hustle and bustle of everyday life and immerse yourself in nature, allowing you to focus on some father-son bonding.
13. Yosemite National Park, California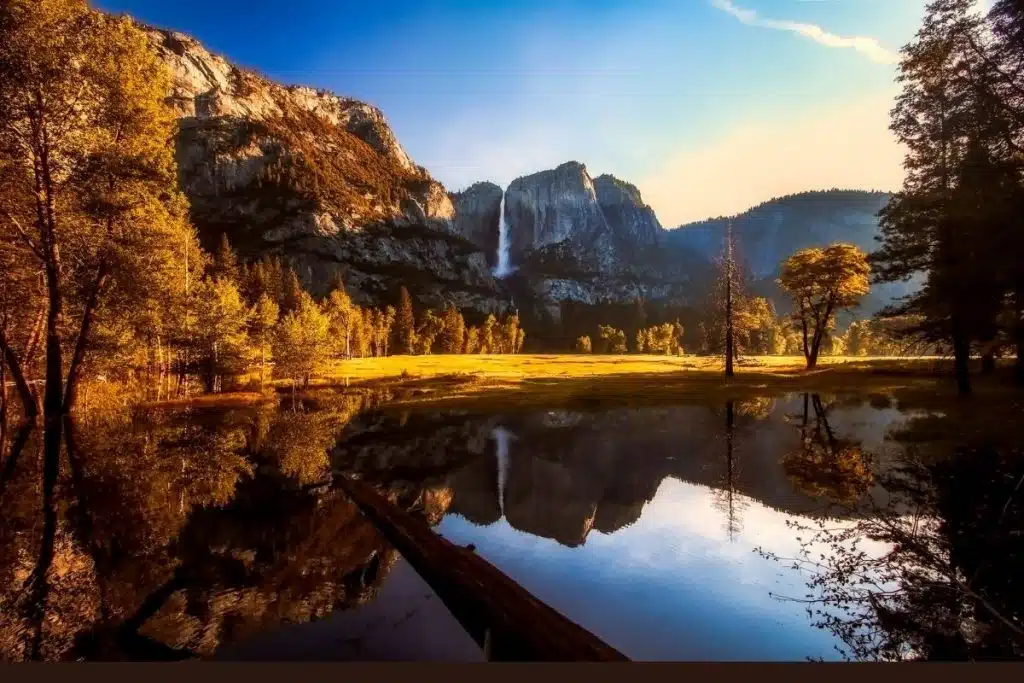 Spectacular scenery will wow you, while the chance to participate in a variety of adventures will seduce you. Yosemite's nearly 1200 square miles of beauty offers you and your boy lots of options, but you'll have a few choices to make. Will you stay inside or outside the park? Lodging is limited inside the park, but staying outside means a lot more driving.
Of course, if you're a camper, you're in prime territory. Rent one of the platform tents in Yosemite Valley, or pitch your own. Even campsites fill up quickly, though, so make your lodging arrangements, whatever they are, far in advance. Also be aware that Yosemite is bear country. Campers must be extremely careful with their food, and children must be supervised.
Popular activities inside the park include fishing, birding, bicycling, hiking, stargazing and horseback riding. Rangers handle interesting programs and guided walks. And if you are inspired by those soaring granite cliffs, you guys can sign up for rock climbing lessons.
14. Snake River, Idaho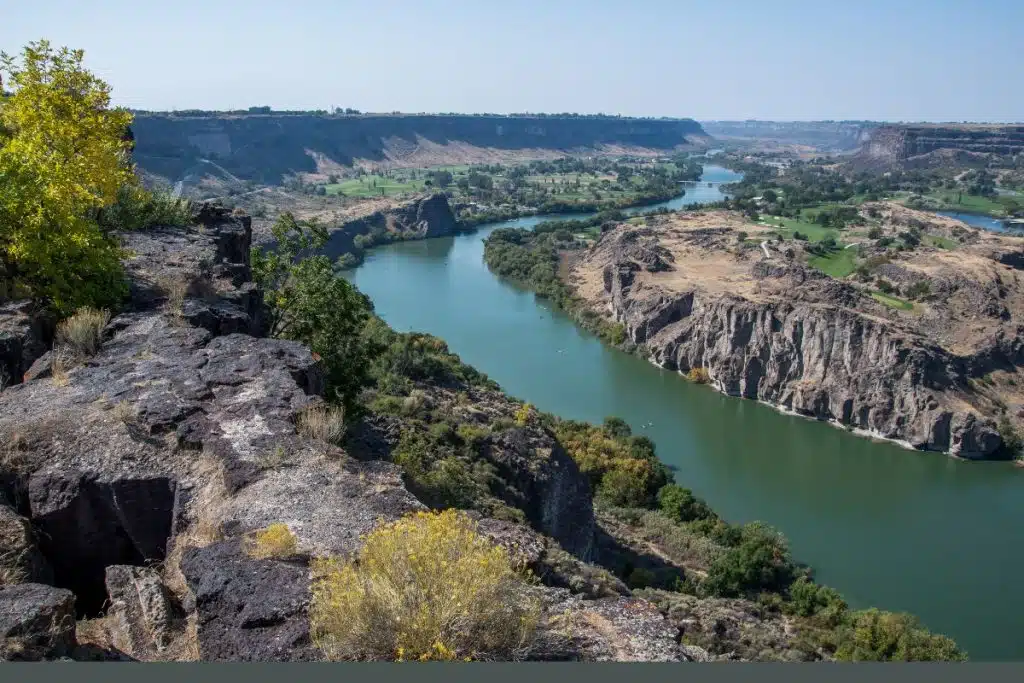 If the words "river adventure" pique your interest, consider a Snake River trip. These Idaho adventures come in several varieties, but your son will need to be around four or older to participate in most of them. Rafting is considered the highlight activity here, and most trips are half-day or full-day, though you can book a multi-day trip and sleep beside the river.
If whitewater rafting isn't your thing, you can seek out calmer waters and fish, canoe, paddleboard or swim. The picturesque Shoshone Falls is also worth a visit.
15. Florida Keys, Florida
Are there any travel enthusiasts who aren't fascinated by the Florida Keys? That string of islands dangling from the end of the Florida peninsula seems to promise adventure. And it can deliver. The Keys are a renowned destination for snorkeling, scuba diving, fishing, boating and all manner of water adventures.
Animal attractions aren't far behind. You can try the Dolphin Research Center in Grassy Key or the Turtle Hospital in Marathon. Don't forget the Key Deer. You can observe and learn about these dainty herbivores at the National Key Deer Refuge. When you make your way to Key West, don't forget to take a picture at the southernmost point of the United States and don't miss the magical Sunset Celebration at Mallory Square.
16. Sleeping Bear Dunes, Michigan
What is the most beautiful place in America? In 2011 viewers of Good Morning, America picked Sleeping Bear Dunes National Lakeshore over better-known locations. With sandy beaches, towering dunes, crystalline water and lush forest, this Michigan park is a feast for the eyes. It's also an epicenter for fun activities.
The famous Dune Climb is the main attraction. Although it measures only about 260 feet, it can take up to an hour because the sand is soft and your feet will slide down a lot. When you reach the top, you will have a nice view of Glen Lake, and it will only take five minutes or so to get back down to the picnic area at the base of the dune. While in the park, you and your son can also kayak or canoe, hike or bike.
Don't miss the historic Maritime Museum in Glen Haven, which tells the story of the U.S. Life-Saving Service and Coast Guard.
17. Yellowstone National Park
Like many American treasures, Yellowstone National Park has spectacular scenery, but two factors set it apart. No other park features the variety of thermal vents and pools that you can see in Yellowstone. Old Faithful is just the beginning! You can also enjoy colorful hot springs, bubbling mud pots and picturesque travertine terraces.
The second thing that makes Yellowstone unique is the variety of wildlife that can be easily observed. It's practically guaranteed to see bison, elk and ground squirrels. There's a moderate chance of seeing coyote, beaver, badger, porcupine and bighorn sheep. Quite a few visitors are lucky enough to see moose and bear. The park is also home to around 150 species of birds, including trumpeter swans and bald eagles.
18. Acadia National Park, Maine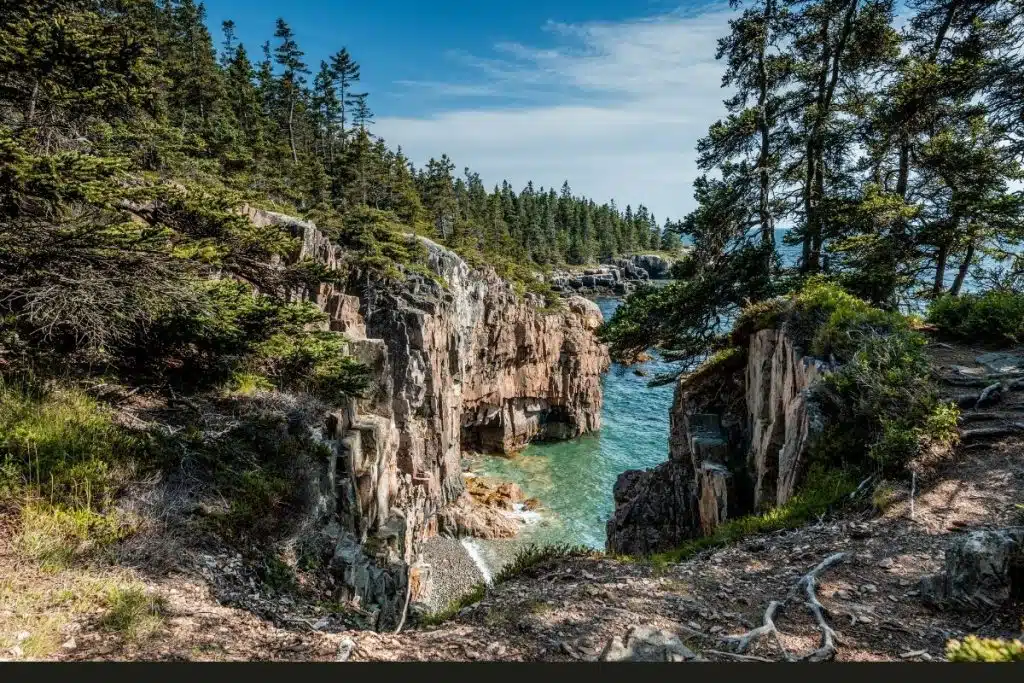 With seven peaks and 158 miles of hiking trails, Acadia National Park is a dream destination for outdoors lovers. You and your boy can enjoy active sports like hiking, biking and rock climbing, or opt for more low-key pursuits like tidepooling and birdwatching. Everyone loves Echo Lake, which is warm enough for swimming.
Don't miss Thunder Hole, where the waves crash into a small inlet and create a monstrous boom, but check for the best time of day to catch this phenomenon. (The views are awesome, too.) You can drive to the top of Cadillac Mountain, the spot in the United States first touched by the rising sun. Like most national parks, Acadia has excellent ranger-led programs, including ranger-guided bicycle and boat tours.
Beach resorts (San Diego, Seaside, Irvington)
Whether it's building sandcastles on the beach, strolling along the pier, or indulging in fresh seafood, a father-son trip to a seaside resort can provide a fun and relaxing atmosphere for quality time together.
19. San Diego, California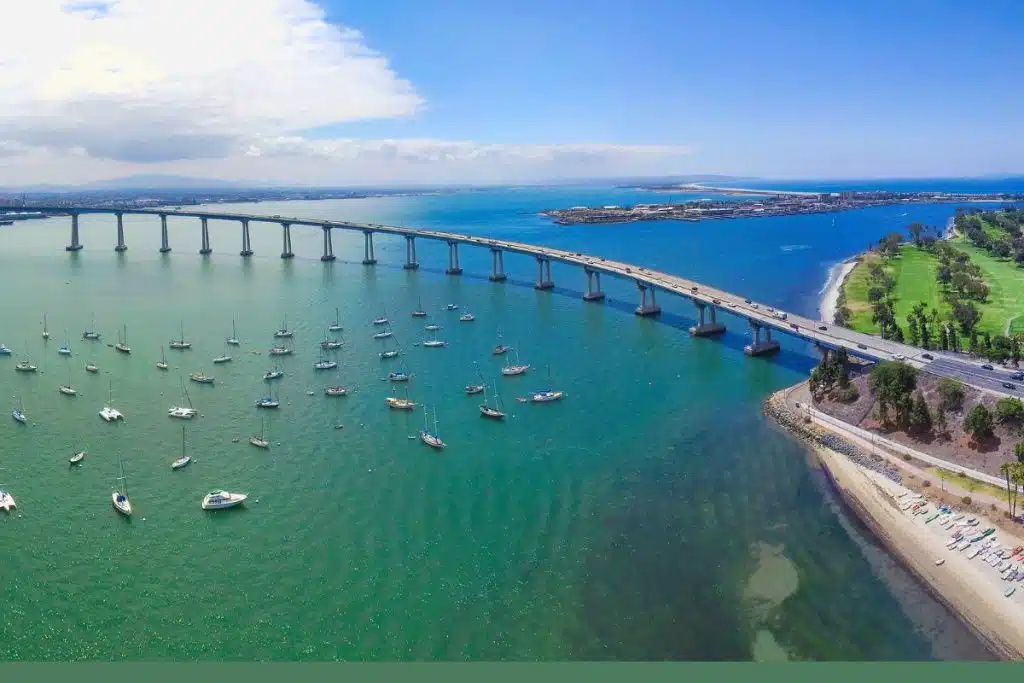 "Sunny" San Diego has more than its share of major attractions. The local zoo is world famous, and just north of town there is a fantastic Safari Park. Other highlights include an aquarium, an observatory, a children's museum and a science center. You and your son can hang out at the beach or go whale watching.
Don't forget to circle SeaWorld on your itinerary, as it will surely be one of the main attractions of the trip. For something different, Belmont Park has a classic wooden roller coaster and lots of other rides in a beautiful beachfront location. Just in case that's not enough, there's Legoland just half an hour north of the city.
20. Seaside, Florida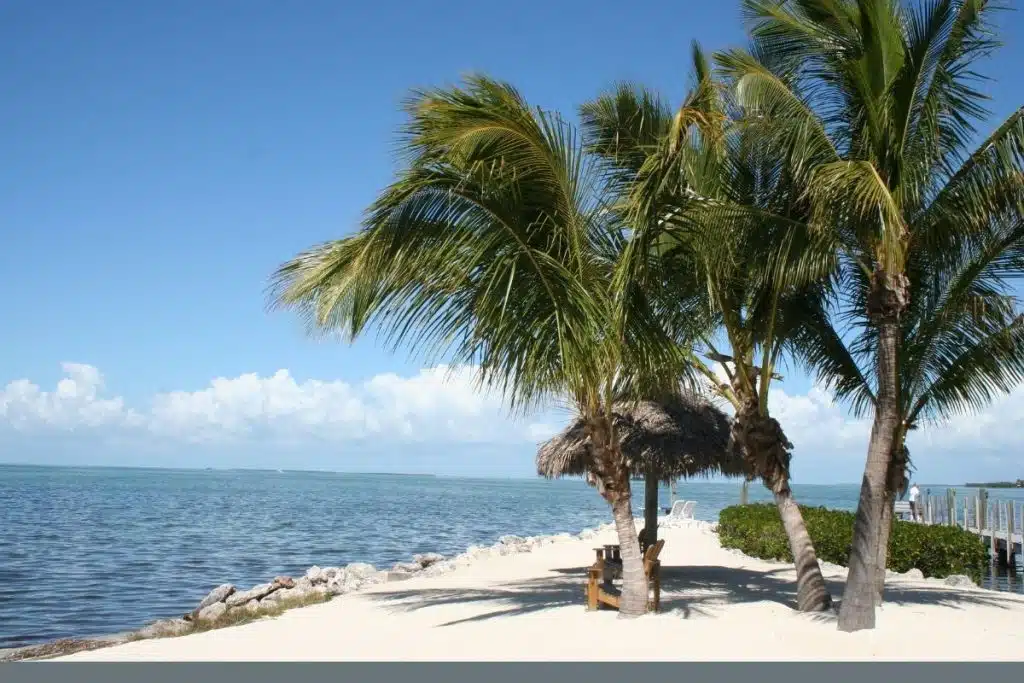 Would you like to park your car and forget about it for days on end? You can do just that in Seaside, a pedestrian friendly community right on one of the pristine beaches of the Florida panhandle.
Visitors to Seaside can choose from a variety of immaculate cottages for their lodging and either dine out in a variety of top-notch restaurants or pick up all the fixings for deluxe dining at home. Central Square in the middle of town hosts nightly festivities, such as live music, outdoor movies and simple people-watching.
21. Irvington, Virgina
Photo Credit: samhughesfoto
Has your boy ever expressed any interest in sailing? How about learning yourself? This resort area located at the confluence of the Rappahannock River and Chesapeake not only has beautiful views but also offers several sailing schools. Other than sailing, you can take to the water in kayaks, paddleboards and canoes, or try any of the things Irvington is known for, like fishing, crabbing and tasting delicious seafood.
Live entertainment (Branson, Austin, New Orleans, Seattle)
One exciting trip idea to consider is visiting a place with live entertainment, such as music festivals, theater or street performances, carnivals, or even regular shows. It can be a great opportunity for fathers and sons to explore new interests and hobbies together. Cheer or sing along to your favorite bands, discover new artists, and learn about different musical genres together.
22. Branson, Missouri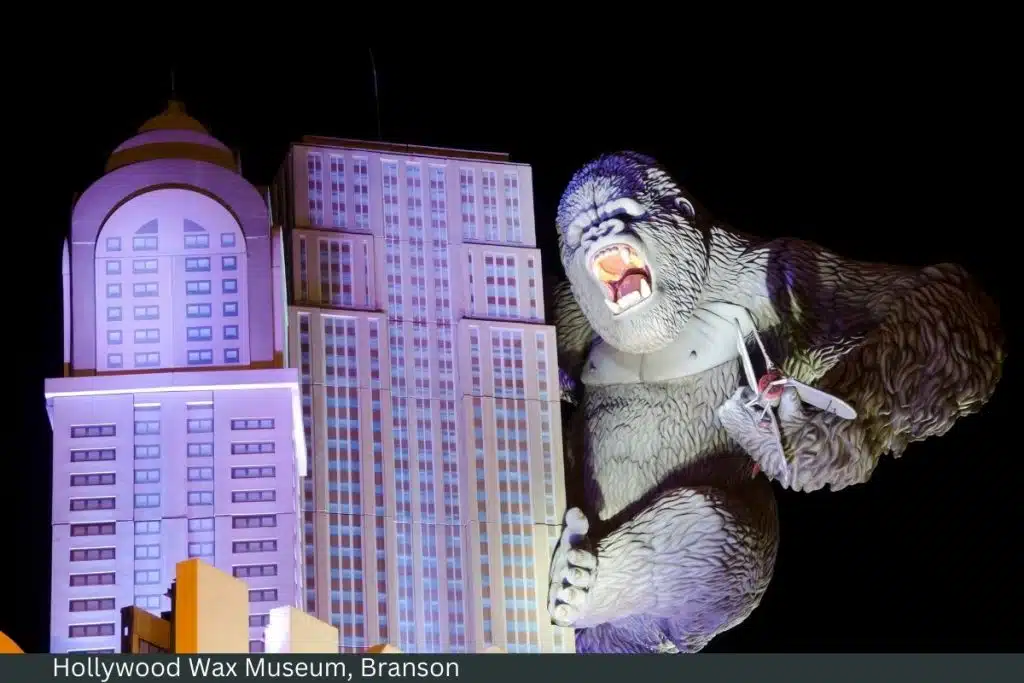 When thinking of family travel, Branson may not come to mind, but this entertainment capital has a lot to offer father-son duos. Of course, there are shows of every variety, from the homeland musical revues that the area is most famous for, to comedy, animal shows and sheer spectacle. There's no shortage of kitschy attractions like bizarre miniature golf courses. And don't miss the world's largest Toy Museum!
Nearby Table Rock Lake provides water sports and camping. Go underground for Talking Rocks Cavern or call on Silver Dollar City, a theme park with an educational twist. Christmas is an especially popular time to visit Branson, as many of the theaters provide seasonal programming, and millions of lights decorate the city. Winter or summer, spring or autumn, fathers and sons can have a ton of fun in Branson.
23. Austin, Texas
If your boy is older and a music fan, you'll have no shortage of things to do in Austin, the Live Music Capital of the World. Some venues might not be available, but most restaurants, coffee shops and street corners offer up tunes. There's even live music on the patio at Central Market, an upscale grocery store. And Austin's charms don't stop with music. Hike to the top of Mount Bonnell for a panoramic view of the city and the surrounding Hill Country. Visit Book People, the world's largest book store.
In case your son is younger, be sure to drop by The Thinkery, the latest version of the Austin Children's Museum. And no warm-weather trip to Austin would be complete without a call at Barton Springs, the three-acre, spring-fed swimming pool that draws both locals and visitors on hot days.
24. New Orleans, Louisiana
The Big Easy, known for jazz, Bourbon Street and a party-hearty atmosphere, is in many ways the opposite of a typical American city. Still, some of its unique attractions are appropriate for children.
Blaine Kern's Mardi Gras World allows a behind-the-scenes look at New Orleans' colorful parades. You and your son will get an up-close look at some of the floats and costumes and learn about the hours of work that goes into each. Preservation Hall is the premier place to hear jazz, and it's kid-friendly with no alcohol served.
A riverboat cruise is another uniquely New Orleans entertainment. Most feature onboard jazz music, and the Natchez also tunes up its calliope periodically. New Orleans also offers a trifecta for little naturalists with the Audubon Zoo, Audubon Aquarium of the Americas and the Audubon Butterfly Garden and Insectarium.
25. Seattle, Washington
If your son is a teen, Seattle just might be one of the best destinations for a father-son trip. First, Seattle has serious cred as the home of some of the coolest bands ever (Pearl Jam, Nirvana, Modest Mouse), and it still has a vibrant music scene. Second, it's where the current coffee craze started.
In between caffeinating yourselves and catching some tunes, you and your boy can visit the Museum of Pop Culture, conveniently located next to the Space Needle. Seattle features a lively waterfront, and you can day trip to Mt. St. Helens or Mount Rainer.
No matter which destination you choose, planning is essential. Make sure not to overschedule, and allow for plenty of breaks. Remember, it's not a race to catch as many attractions possible, but rather have fun and make fond memories together. Take plenty of pictures and make the trip about you two, because that's what will make it special. Happy travels!