Whether you're both thrill-seekers, foodies, or just looking for quality bonding time, there are plenty of amazing destinations and activities across the country that are sure to make your trip one for the books.
From exploring the great outdoors to indulging in some urban adventures, maybe planning a road trip or looking for shopping advice, the options are endless. So grab your daughter and get ready for a memorable adventure together!
Theme and amusement parks
1. Anaheim, California
Photo Credit: reoreo
Disney has made every little girl dream of being a princess, and their parks are designed to fulfill those very wishes. Now, throughout the years, several Disneyland complexes have been created, yet the one in Anaheim remains special. Not only because it was the first, but also because it's the only one constructed under the supervision of Walt Disney himself. It has a wide variety of rides and attractions, though Sleeping Beauty's castle is particularly popular.
Meet and interact with many beloved characters, such as Mickey Mouse, Minnie Mouse, and Cinderella. Don't forget to take a picture as a wonderful memento. Stay and revel at the parades and shows, such as the nightly fireworks event and the popular "Fantasmic!" show, which features water effects and characters from classic Disney movies.
Get some more Disney excitement from the Downtown District, where shops ranging from high-end boutiques to Disney-themed stores sell merchandise related to the beloved characters and movies. Try out any of the restaurants offering a range of cuisines, from American to Asian, Mexican, or Mediterranean. After a satisfying meal, visit Splitsville Luxury Lanes bowling alley and the AMC movie theater, where the latest releases are projected.
After a full day of running around, Anaheim Packing District should probably be your next stop. This is a fun food hall with a variety of appetizing meal options, live music, and a lively atmosphere. In the evening, maybe catch an Anaheim Ducks hockey game or see the Los Angeles Angels, if you're more into basketball.
So dads, what are you waiting for? Book those tickets for "The Happiest Place on Earth".
2. Hersheypark, Pennsylvania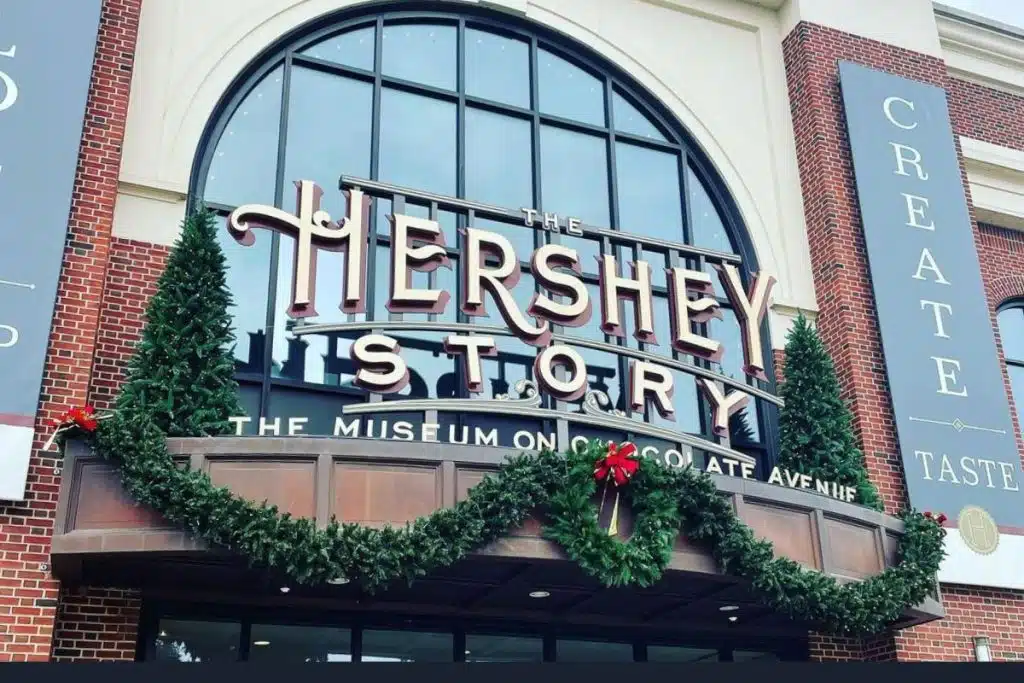 Photo Credit: Alexandra
Milton Hershey, founder of the Hershey Chocolate Company, initially just wanted a way to provide a recreational outlet for his employees and their families. The park first opened in 1907 and has since expanded to include over 70 rides and attractions, alongside a water park and an entertainment complex.
One of the main attractions at Hersheypark is the chocolate-themed experience Chocolate World, which involves a tour of the chocolate-making process, interactive exhibits, and plenty of opportunities to sample Hershey's chocolate. You can even prepare your own delicious creation!
There are other tasty activities to be had, ranging from thrilling roller coasters and water rides to family-friendly attractions like bumper cars and carousels. Hop aboard the SooperDooperLooper for a leisurely ride or, in case you're brave enough, try out Storm Runner, which goes from 0 to 72 miles per hour (ca. 116 km/h) in just 2 seconds.
Connected to the park, you will find ZooAmerica, which houses a few hundred animals, among them rare or endangered species, for example, California Condors and Eastern Screech Owls. Educational programs and experiences for visitors, including animal encounters, behind-the-scenes tours, and interactive exhibits, are available, but please don't offer animals any chocolate.
Overall, you might say that this is a pretty sweetest park.
3. Cedar Point, Sandusky, Ohio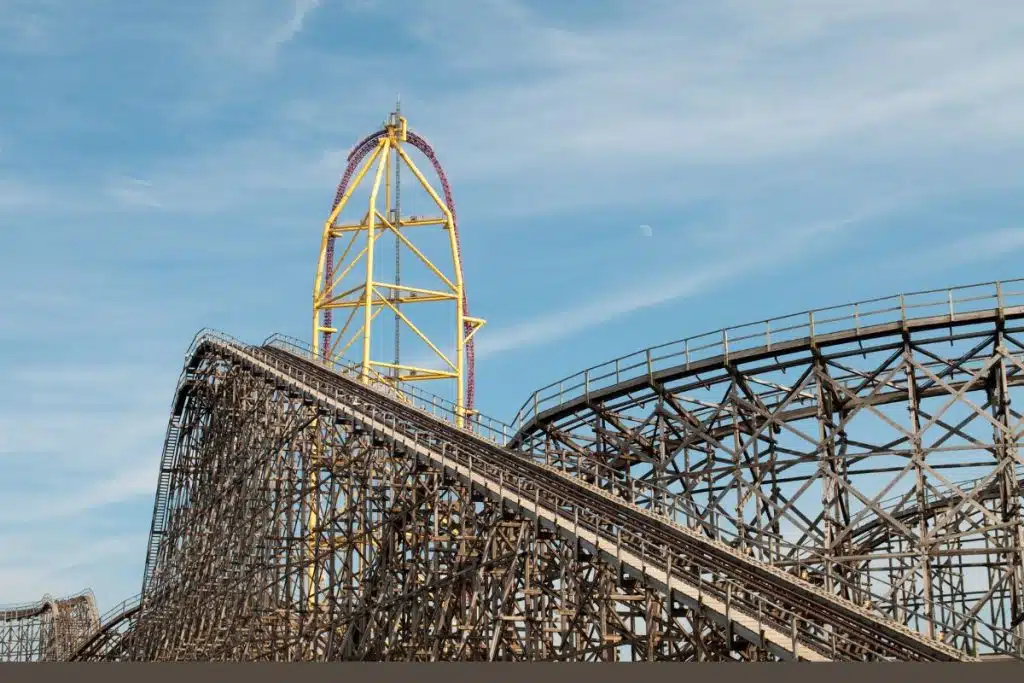 "America's Roller Coast" is the second oldest amusement park in The United States. Operating for over 150 years, Cedar Point is home to 15 coasters, 5 of which going as high as 200 feet (ca. 61 m)! With more than 3 million annual visitors, it's no wonder they've been dubbed the "Best Amusement Park in the World" for several years running.
From September 14 to October 29, they run Halloweekends, with some "not-so-scary fall activities" and live entertainment. As a breather from the adrenaline inducing rides, maybe try your luck at carnival games for the chance of winning cute prizes. Who will hold the bragging rights at ring tossing or balloon darts? Only one way to find out.
For a more relaxing day, try Cedar Point Shores Waterpark, but keep an eye out for Lemmy, the "mythical Lake Erie monster" who has his own lagoon. Splash around in the many slides and pools available, or try out a couple of water activities, like jet skiing or paddleboarding. You might also enjoy a leisurely ride together while taking in the sights aboard the Cedar Point & Lake Erie Railroad.
4. Discovery Cove, Orlando, Florida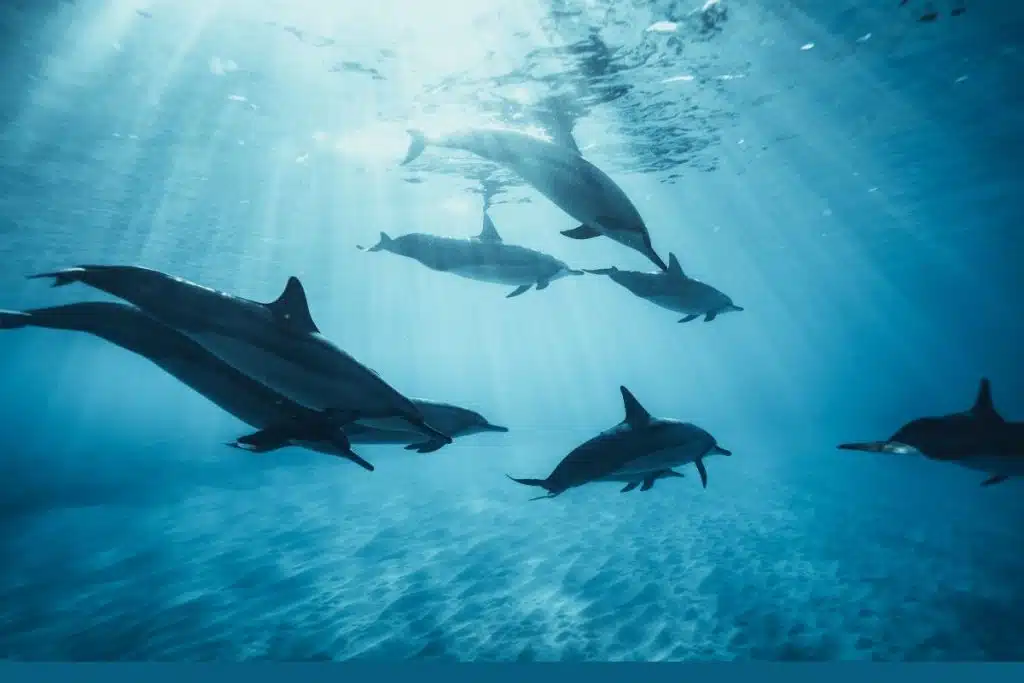 Is your daughter interested in marine animals and ocean conservation? Then Discovery Cove will surely be a treat. This is an immersive aquatic theme park where visitors can get up close and personal with underwater life. Naturally, swimming with dolphins is one of the most popular activities (though you can swim with sharks too, in case you're feeling adventurous).
Your daughter can participate in a 30-minute dolphin session, interact with these intelligent creatures, and even receive a kiss or a hug. There is also the opportunity to snorkel in the park's coral reef, which is home to a variety of colorful fish and marine animals.
Another special program is "SeaVenture". It allows guests to take an underwater tour and encounter a variety of sea creatures, including sharks, rays, and tropical fish. This is a rare chance not only to see these animals in their habitat but also to feed the fish and even touch some of the sea life. It's like being Ariel, the Little Mermaid. If you're feeling lazy, pull up a deck chair and just enjoy the sun at any of the beaches and pools, including a freshwater pool and a saltwater lagoon with a sandy beach area.
5. Universal Studios, Orlando
This is a great choice for girls who love movies, TV shows, and pop culture. Created to provide an unforgettable experience, the thrilling rides and immersive attractions portray many of the biggest cinematic productions to date.
The park boasts two main sections – Universal Studios Florida and Universal's Islands of Adventure – as well as a water park, Universal's Volcano Bay. With a variety of accommodations, dining options, and entertainment experiences, Universal Orlando is an ideal destination for a father-daughter trip that will create lasting memories.
The Wizarding World of Harry Potter will transport you inside the magical universe of the book and film franchise. It's divided into two sections, located in the two theme parks: Hogsmeade is within Universal's Islands of Adventure, and Diagon Alley can be found at Universal Studios Florida.
Hogsmeade features a replica of the famous Hogwarts Castle, which houses the popular ride "Harry Potter and the Forbidden Journey", taking guests on a ride through the castle and various locations from the books and movies. You will find shops like Honeydukes, which sells wizarding sweets, and Ollivanders, for when you need a personalized wand.
Diagon Alley recreates the wizarding shopping district. Guests can visit Gringotts Bank and ride "Harry Potter and the Escape from Gringotts", on a wild voyage through the bank vaults and caverns. Other popular attractions include the Hogwarts Express, running from one park to the other, and the interactive wand experiences, where guests can use their wands to cast spells throughout the park.
Many more such wonderful attractions can be enjoyed here, including Jurassic Park River Adventure, a water ride journeying through a dinosaur-infested island and ending with a thrilling drop. Fans of animations might prefer Despicable Me Minion Mayhem, or The Simpsons Ride, designed as a motion simulator taking guests on a wild and hilarious adventure with the Simpsons family.
City adventures
6. San Francisco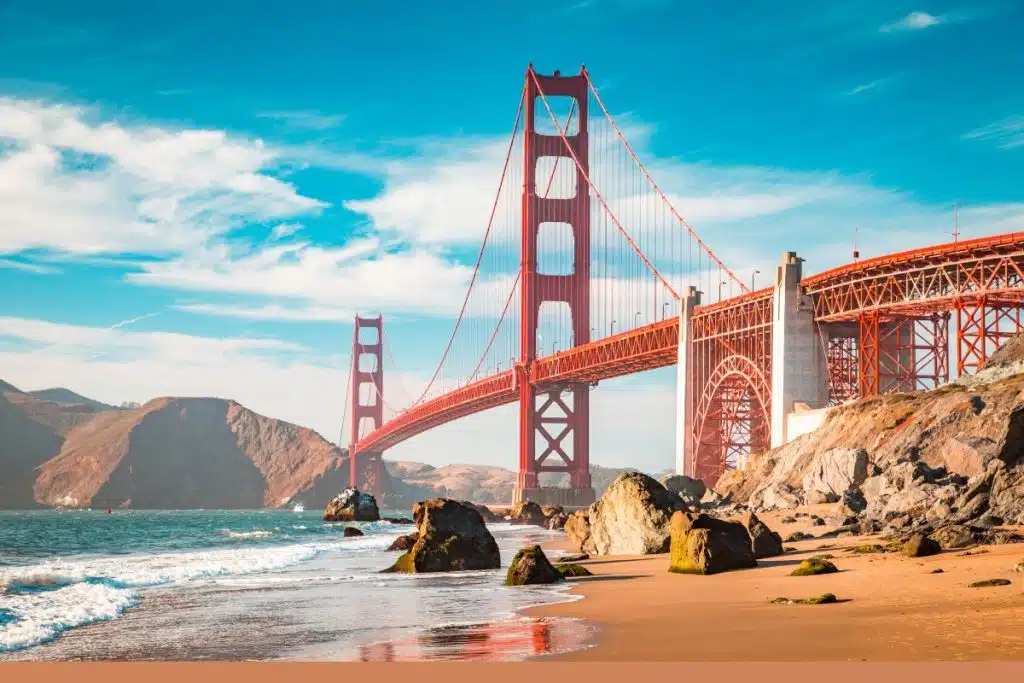 A vibrant city famed for its eclectic mix of cultures, stunning architecture, and diverse neighborhoods, San Francisco makes for an amazing destination. After taking a couple pics of the iconic Golden Gate Bridge, head on over to Golden Gate Park. This 1,000-acre stretch of land is a must-see location in San Francisco.
Take a stroll through the Botanical Garden, admire the art at the de Young Museum, or rent a bike and cycle around the park. There's also the option of taking a paddleboat on Stow Lake for a fun and scenic experience.
For young ladies in need of some retail therapy, Union Square is the place to be. This shopping district boasts high-end department stores like Saks Fifth Avenue and Neiman Marcus, as well as designer boutiques and specialty shops. For something more unique, check out Mission District or the vintage shops in Haight-Ashbury.
"San Fran" is also known for its diverse food scene, with everything from classic seafood dishes to modern fusion cuisine. Popular spots for girls include Tartine Bakery, renowned for its delectable pastries, and Bi-Rite Creamery, which serves up some of the best ice cream in town. If you're feeling adventurous, try a bit of the city's renowned sourdough bread or a seafood dish at Fisherman's Wharf.
Make sure to take a walk along the pier to watch the sea lions sunbathe on the dock. Don't forget about the famous Ghirardelli Square to pick up a few chocolate treats.
7. Portland, Oregon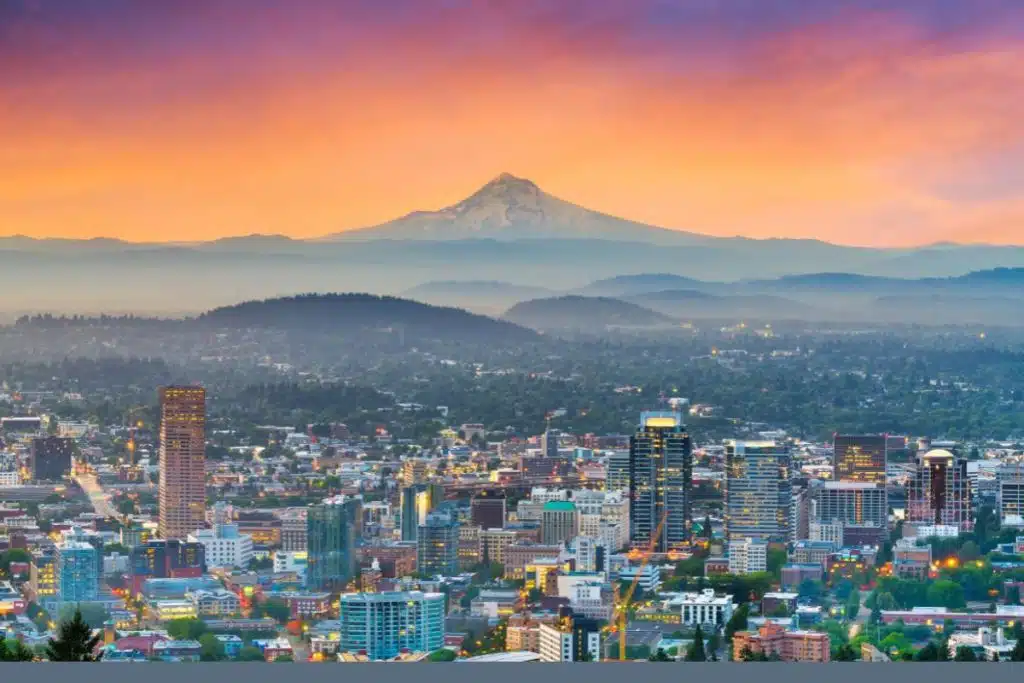 Portland is admired for its splendid natural beauty and called "City of Roses" for a reason! See for yourselves by taking a hike through Forest Park, the largest urban forest in the country, but also stop for a minute at Mill Ends Park, the world's smallest park (just 2 feet in diameter!). You have to visit the International Rose Test Garden and be welcomed by the intoxicating fragrant blooms of over 10,000 rose bushes while taking in awesome views of the town.
You'll be happy to learn that Portland is a foodie's paradise. Some must-try spots include Pok Pok for Thai street food, Salt & Straw for artisanal ice cream, and Tasty n Alder for brunch. Of course, no visit would be complete without sampling the city's lauded food carts – there are over 500 scattered throughout the town! The Pearl District is one of Portland's trendiest neighborhoods, with its art galleries, boutiques, and upscale shops.
Girls will love browsing the selection of clothing, jewelry, and home decor at stores like Frances May, Woonwinkel, and Powell's City of Books, the world's largest independent bookstore. For the end of the day, make a reservation at a spa in one of the many wellness centers. This will surely leave you feeling refreshed, inspired and delighted with all the great memories you made together.
8. New York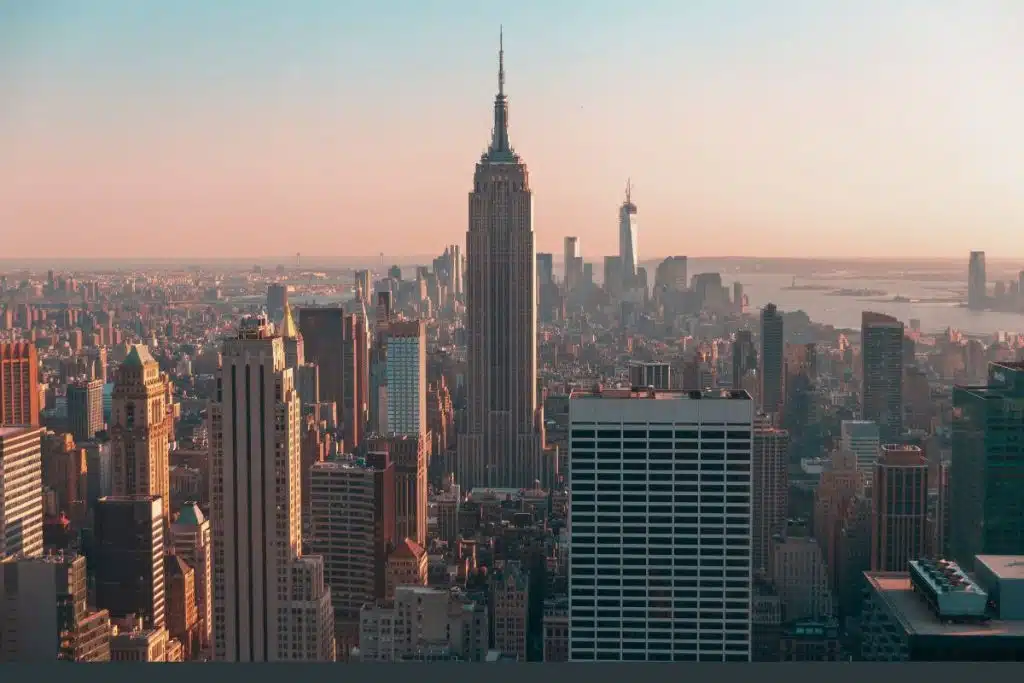 Glamorous New York, what a destination! For anyone interested in culture and the arts, this city is like a dream come true. A number of the world's most famous museums can be found right here. From ancient Egyptian artifacts to contemporary art, "the Met" has something for everyone. Another popular complex is the American Museum of Natural History, which features exhibits on dinosaurs, space, and the natural world. Both offer free admission, although donations are appreciated.
But don't forget about the Museum of Modern Art which houses Vincent van Gogh's "The Starry Night", the Guggenheim, displaying among others Picassos, the Brooklyn museum, Whitney Museum of American Art, and so many more.
Fashion is also a highlight of this town, with Fifth Avenue being praised for its high-end stores, while SoHo known more for trendy boutiques and independent shops. It's a good idea to also peruse Brooklyn's Williamsburg neighborhood, where you'll find a mix of vintage shops and artisanal goods.
And what about foods? Well, from street vendors selling hot dogs and pretzels to high-end Michelin-starred restaurants, the city provides a diverse range of culinary experiences. So many places sell variations of New York-style pizza that you'll never get to taste them all. Not to mention all the international cuisines like Thai, Korean, or Ethiopian.
Touristy things include seeing Lower Manhattan's Wall Street, Central Park, Grand Central Terminal, taking the ferry to Ellis Island and of course, the Statue of Liberty. If you still have time, catch a show at Carnegie Hall or Broadway, these are always fun.
For something a bit different, visit the Color Factory. This interactive exhibit is designed to be a sensory journey through color. Guests can jump into a giant ball pit, walk through a room of confetti, and taste colorful treats. Everything about New York just sounds excellent!
9. Savannah, Georgia
Take a break from the crowded metropolitan life and embrace a beautiful city filled with Southern charm, historical landmarks, and exciting activities, like Savannah. The historic district is filled with stunning architecture, picturesque squares, and beautiful parks that are perfect for a leisurely walk or picnic. There are also many shops, cafes, and restaurants in the area, making it a great place to spend an afternoon.
Fancy a dip? Tybee Island is only a stone's throw away, and it's the perfect answer to the torrid afternoon hours. If you didn't bring a swimming suit, Leopold's Ice Cream has got you covered. Since 1919, they've been serving award winning homemade ice cream, freshly squeezed fruit juice and even in-house baked treats.
Do you like honey? Well, then the Savannah Bee Company might be a neat stop. This shop and tasting room is located in the heart of downtown and offers an array of honey-based products, including lip balm and mead. Guests can taste different varieties of honey and learn about the bees that make it all possible. Could be a fun and educational experience to bond over.
For a taste of Savannah's rich history, girls might enjoy visiting the "Juliette Gordon Low Birthplace". This historic home is where the founder of the Girl Scouts was born, and the building has been preserved as a museum dedicated to her legacy. Guests can learn about Low's life, view her personal belongings, and even participate in hands-on activities related to the Girl Scouts.
10. Santa Fe, Mew Mexico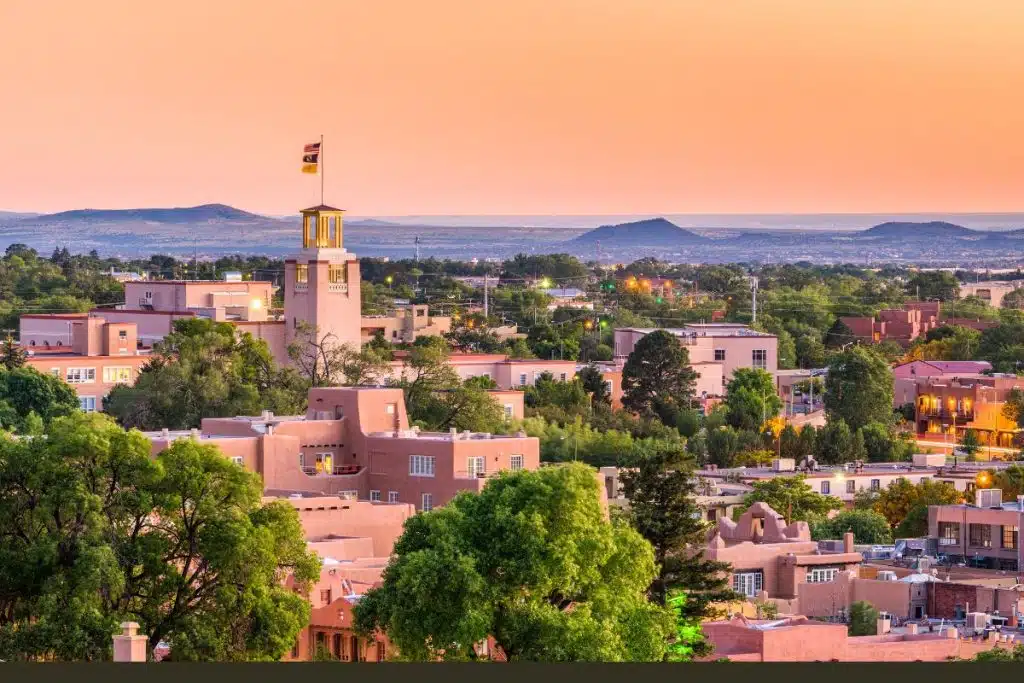 One of the must-do activities in Santa Fe is visiting the historic Plaza. Located in the heart of the city, the area is surrounded by adobe buildings and filled with street vendors selling jewelry, pottery, and other handmade crafts. It's a brilliant place to people-watch, grab a bite to eat, or just soak up the unique vibe of Santa Fe.
Speaking of foods, Santa Fe's culinary scene features a mix of traditional Southwestern cuisine and innovative modern fare. Everything from street tacos to fine dining – there's something to suit every palate. Be sure to check out the Santa Fe Farmers Market, which features fresh local produce, artisanal cheeses, and handmade crafts.
If you know anything about art, you've likely heard the name Georgia O'Keeffe. But did you know this amazingly influential American artist was a resident here? The local museum allows a free tour and tries to hold true of her motto – that everyone should follow their dreams. There are also a number of galleries and museums showcasing local and international artists, so plenty of artistic objectives to put on a list.
For a simple fun activity in town, take a quick stained glass class. Learn to break glass and melt metal through "centuries-old techniques" to create glass suncatcher ornaments. How awesome is that? You get to make your own one-of-kind trinket.

Are you looking for something more active? Then, the nearby Sangre de Cristo Mountains provide a variety of hiking trails, from easy strolls to more challenging treks. The Dale Ball Trails are another great option for those looking to explore the natural beauty of the area. Biking is also a popular activity in Santa Fe, with several scenic routes to choose from.
National parks and outdoor adventures go hand in hand
11. Yellowstone National Park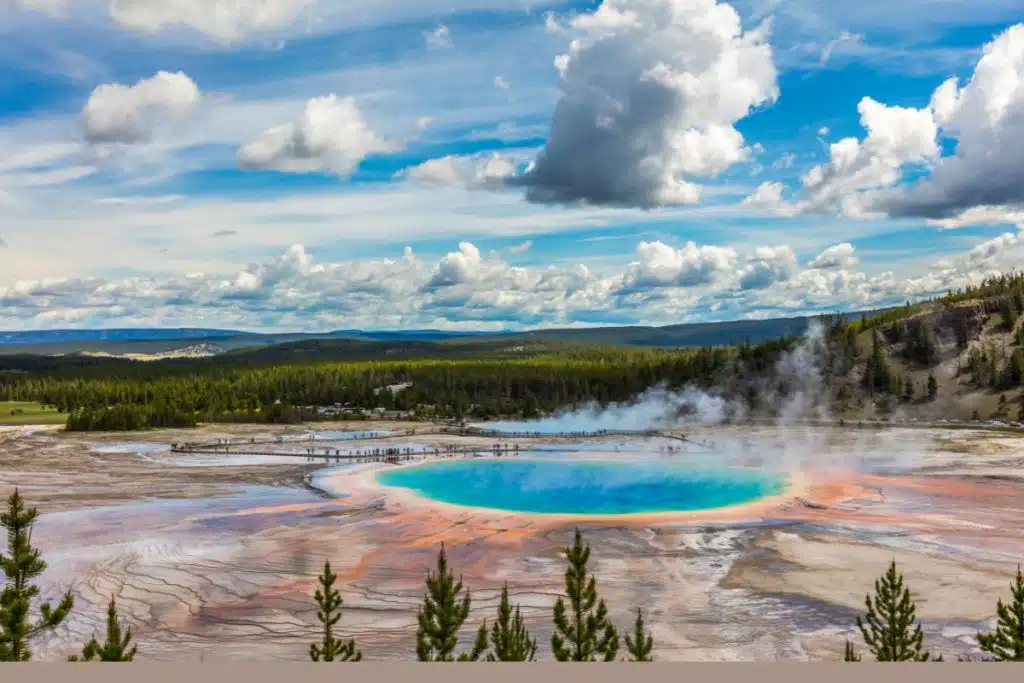 Located primarily in Wyoming but also stretching into Montana and Idaho, Yellowstone is a true natural wonder. In 1872, it became the first national park in the United States, and it remains one of the most popular, attracting millions of visitors every year. Besides the incredibly biodiverse wildlife, the area presents an amazing variety of geothermal features, including geysers, hot springs, and mud pots.
Girls who are interested in science and geology will love exploring the park's many geysers, including the famous Old Faithful. In case you haven't heard the story behind the name, it comes from how regularly it erupts, every 44 minutes to two hours.
Something you might not know is that in the early days, people used it for washing clothes. They would just place garments inside, and the pressure would eject them out clean after a while. Like a natural laundry machine. Unfortunately, they soon realized it wasn't particularly great, since the force of the water damaged the fabrics. This is a remarkable natural phenomenon to observe, just be prepared for the occasional blast of hot water!
Yellowstone has hundreds of miles of hiking trails, ranging from easy strolls to challenging climbs. These allow for a marvelous chance to do some wildlife spotting. Herds of bison and elk can be routinely seen grazing about. You might even spot bighorn sheep, which are known for their impressive horns and their ability to navigate steep, rocky terrain. Pronghorn are another emblematic species found in Yellowstone. These native animals are in fact the fastest land animals in North America.
Attending a ranger-led program can be fun for both dads and daughters. Yellowstone's rangers offer a variety of programs and activities, including guided hikes, campfire talks, and wildlife demonstrations.
12. Olympic National Park, Washington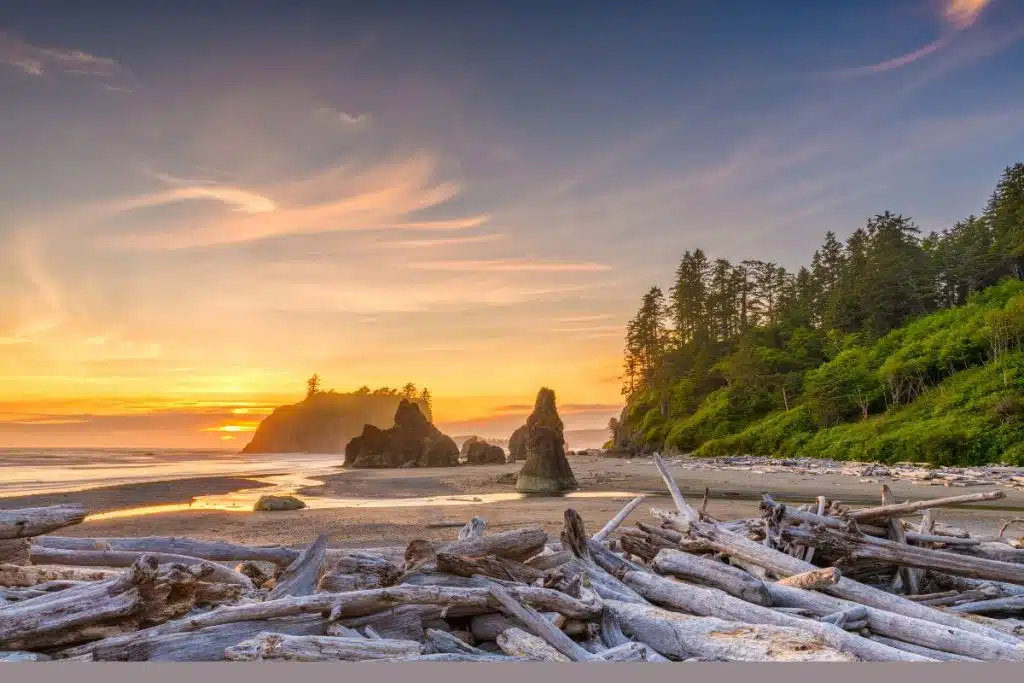 Designated a UNESCO World Heritage Site in 1981, Olympic National Park boasts an unmatched array of ecosystems, ranging from rugged alpine peaks and glaciers to temperate rainforests and wild Pacific coastlines. Here you can encounter various interesting plant and animal species, including Roosevelt elk, black bears, and bald eagles.
Those interested in photography will find this place Heaven. The park is home to several iconic vistas that are popular among photographers. Hurricane Ridge, for example, allows for sweeping views of the Olympic Mountains and surrounding valleys. Meanwhile, the Sol Duc Valley show gorgeous waterfalls and old-growth forests.
The coastline is rugged and wild, offering dramatic seascapes and the opportunity to capture pictures of marine wildlife such as sea otters and sea lions. You can find plenty of locations for night photography too. With minimal light pollution, photographers can capture remarkable images of the Milky Way and other celestial objects.
For some fun father-daughter activities, consider beachcombing. There are over 70 miles (ca. 113 km) of coastline to browse through, and the most popular places for beachcombing include Rialto Beach, Second Beach, and Ruby Beach. It doesn't always have to be valuable objects, sometimes it's just things that look nice, like sea glass.
The constant flow of the waves smooths down colorful pieces into distinct and beautiful beach finds. Actually, many guests create beach art from natural materials they find on the shore, as it provides endless inspiration for creative expression.
Kayaking is a favored activity here, and there are many options to choose from. Crystal-clear lakes are ideal for kayaking, offering calm waters and spectacular views of the surrounding mountains and forests. Lake Crescent and Lake Quinault are generally preferred, though, you can also opt for a coastal alternative. Paddling along the coastline provides access to secluded beaches, hidden coves, and sea stacks, as well as opportunities to see marine wildlife such as sea otters, seals, and whales.
13. Grand Canyon
Carved by the Colorado River over millions of years, the Grand Canyon is considered to be one of the most spectacular destinations in the world. The marvelous geological formations, including towering cliffs, deep gorges, and vibrant rock formations, make for an enchanting camping place.
There are plenty of options for spending nights in the area. Either rent tents on location or do what many prefer instead: drive an RV and park it in any of the specially designated spots. You will have access to amenities such as restrooms, showers, and even a general store. Spending the day hiking around and evenings in front of a fire telling stories can be a wonderful bonding experience. Leave behind the distractions of daily life and connect with the natural world.
Put your phone away and enjoy the night sky filled with the beauty of the stars. The Grand Canyon is an excellent place to stargaze and learn about the constellations. It also makes for an incredible setting for photography, both during the day and at night.
You might like to try a mule ride down into the Grand Canyon. This is a unique experience, and guided tours are available for visitors. Travel along the ridge, then on special paths, taking in the breathtaking vistas and the natural wonders.
14. Everglades National Park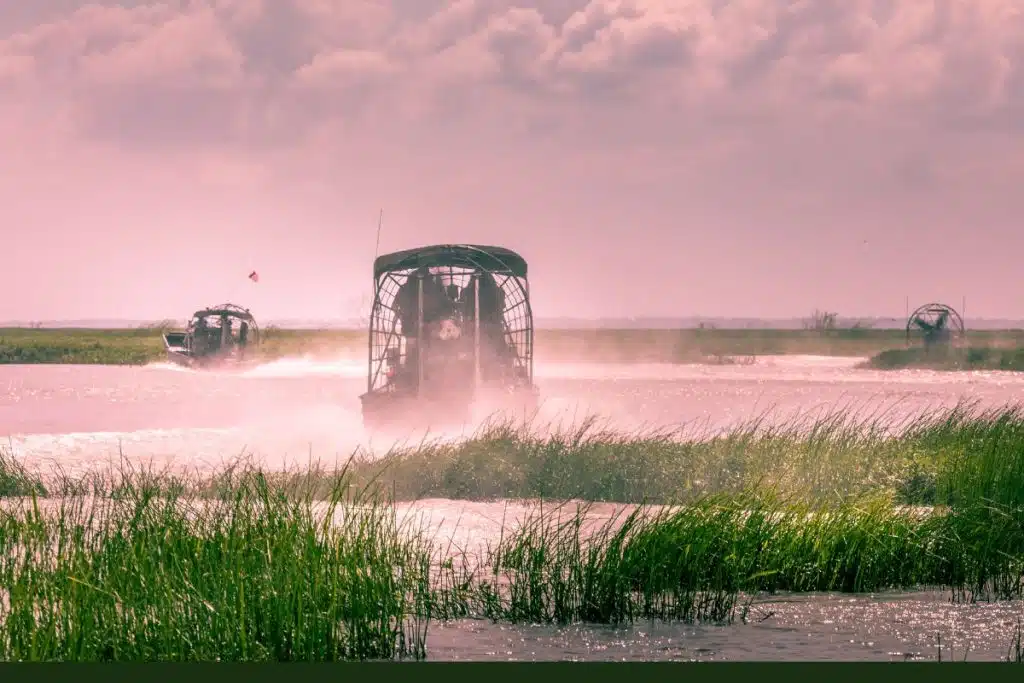 Looking for a father-daughter trip that's a little off the beaten path? Well, pack your sunscreen and bug spray because you're headed to the Everglades National Park! It's the largest tropical wilderness in the United States and home to several amazing creatures, from playful otters to majestic eagles.
The extraordinary ecosystem here is composed of diverse landscapes, including swamps, sawgrass prairies, and forests, and is a haven for rare and endangered species such as the American crocodile and the Florida panther. Don't worry, they're kind of shy and might not show up even for a picture, but you can still enjoy the scenic beauty, especially the stunning sunsets.
Hiking trails abound throughout the park. Anhinga Trail is one of the most walked and goes along an easy half-mile boardwalk that meanders through a sawgrass marsh. Along the way, you might spot alligators, turtles, anhingas, and other wildlife up close. Gumbo Limbo Trail is quite short and winds through a hardwood hammock, offering a chance to see a variety of trees, plants, and wildlife.
The trail is particularly beautiful in the spring, when wildflowers are in bloom. During winter, Pine Island Trails are favored as they cross wet prairies and make it easier to observe migratory birds in the area.
Everglades National Park is a renowned destination for birdwatchers, with over 360 species of birds commonly found here, some of them native to these parts. There are typical waterfowls, like ducks, geese, and coots; shorebirds such as sandpipers, plovers, and willets, and even colorful parrots. It also might well be the only place to see a few endangered species, like the splendid Snail Kite, Wood Storks, or the agile Cape Sable Seaside Sparrow.
15. Glacier National Park, Montana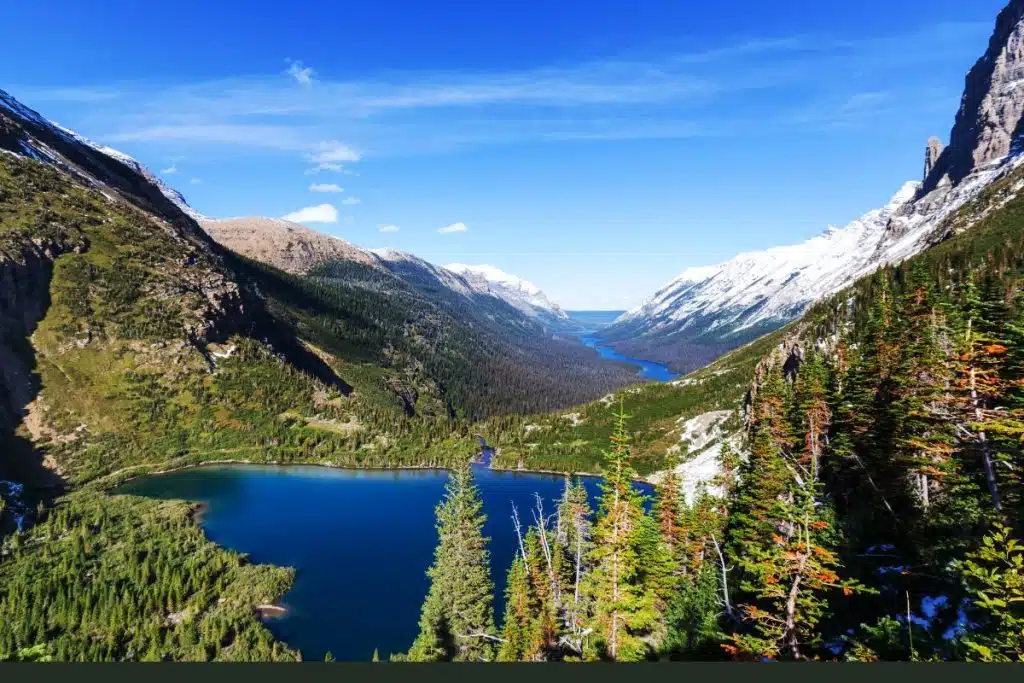 Glacier National Park awaits you with rugged mountain peaks, deep valleys, ancient glaciers, and one of the most stunning and dramatic landscapes in the country. This is a natural wonderland for unforgettable experiences.
With its stunning landscapes, Glacier National Park offers ample opportunities for photography. For example, Lake McDonald, the largest lake in Glacier National Park, has clear waters and a mountainous backdrop that make for a striking image, especially during the fall when the trees change colors. More than 1,000 species of plants, many of which are colorful and photogenic, as well as an abundance of wildlife are waiting to be snapped. Think of all the Likes.
Take a leisurely ride on the water of the many beautiful lakes, especially Lake McDonald, St. Mary Lake, and Swiftcurrent Lake. Try the Two Medicine Boat Tour, which takes guests across Two Medicine Lake to the historic Sinopah Mountain Lodge. It provides a glimpse into the park's past, as the lodge was built in 1910 and is now listed on the National Register of Historic Places.
Many Glacier Boat Tour goes across Swiftcurrent Lake and Lake Josephine to the foot of Grinnell Glacier to view unbelievable glaciers and chilly waterfalls.
Beach Destinations
16. Oahu, Hawaii
"The Gathering Place", that's what Oahu roughly translates as, and it's a fitting name. This Pacific Island has pristine beaches, lush rainforests, dramatic mountain ranges, and an exotic culture. Add to that luxury shopping and a plethora of outdoor activities, and you've got the recipe for a memorable trip.
Waikiki is one of the most famous and popular beaches in Hawaii. With soft, golden sand and calm, warm waters, it makes for an awesome spot for swimming, surfing, and other water activities. Lanikai Beach, located on the windward side of Oahu, is more picturesque with its beautiful views of the Mokulua Islands just offshore, turquoise waters, and fine white sand.
If you want to try windsurfing or kiteboarding, Kailua Beach is best. There are several rental shops nearby, and it's a great spot for picnics in case you get hungry.
The Hawaiian Islands have a rich and fascinating ancient culture with a history that spans over a thousand years. One of the most significant landmarks on Oahu is the ancient Hawaiian temple of Heiau. These were sacred sites, often built to honor Hawaiian gods and goddesses, though others were used for practical purposes like fishing and agriculture.
Another important cultural point on Oahu is the Iolani Palace, the former royal residence of the Hawaiian monarchs. The palace was completed in 1882 and features a blend of Hawaiian and Western architectural styles. Visitors can take guided tours of the palace and learn about Hawaii's monarchy and its role in the island's history.
Hula dancing is pretty big here, with many festivals and events throughout the year. Merrie Monarch Festival is the most notable and lasts a whole week. It's dedicated to celebrating the art of hula, with competitions, performances, and cultural workshops showcasing the beauty and complexity of this ancient dance form. Doesn't it sound fun?
17. Miami, Florida
Miami offers a unique blend of natural beauty, cultural diversity, outdoor activities, and delicious food, making it a fitting destination for any family trip.
When you're in town, you have to visit the Seaquarium, which houses various marine animals, including dolphins, sea lions, manatees, sharks, and sea turtles. See daily shows and presentations featuring these animals and learn more about their behavior, habitats, and conservation efforts. Through the Dolphin Odyssey, you can touch, feed, and swim with the dolphins, while Dolphin Encounter provides a chance to learn about their unique characteristics and personalities.
For girls interested in science, the Patricia and Phillip Frost Museum of Science can be an exciting experience. The museum features interactive exhibits that explore various scientific disciplines, such as physics, biology, and astronomy. Your daughter can participate in hands-on activities, planetarium shows, and even simulate a hurricane in the museum's hurricane simulator.
The beaches are naturally spectacular, with South Beach commonly referred to as the "American Riviera". It has wide stretches of white sand, clear blue water, and pastel-colored Art Deco buildings. Miami Beach is a favorite spot for swimming, sunbathing, and watersports, but if you want something more family-orientated, Crandon Park Beach is probably better suited. The water there is shallower and calmer, and has several amenities, including picnic areas as well as showers.
Miami is also a great place to meet celebrities. Either because they're working on movies or TV series or just because they live here. Just recently, a movie adaptation of Dora the Explorer was filmed here, and there are even some Nickelodeon productions done in different locations here.
18. Outer Banks, North Carolina
Sure, you could spend all day sunbathing at the amazing beaches here, with their silky sands and wavy waters, but there's something even better to do in Outer Banks. Dolphin watching is actually a very popular activity, with regular tours on a wide range of boats. Various species of dolphins can be seen, including Atlantic bottlenose dolphins and common dolphins. These playful creatures can often be noticed leaping and swimming alongside boats.
You might even catch a glimpse of Onion, who is a bit of a celebrity here, and his family, since they frequently swim around ships. During most of the summer months, he will be entertaining people in the Nags Head area, but moves to Beaufort, N.C. for winter.
For a bit of sightseeing, maybe check out the several historic lighthouses sprinkled around. There are guided tours that are very informative yet don't take long. This could be a fun way to spend an afternoon together.
For example, you will find that The Cape Hatteras Lighthouse is one of the most iconic landmarks in the Outer Banks or that Ocracoke Island Lighthouse is the oldest operating lighthouse in North Carolina, dating back to 1823. The Currituck Beach Lighthouse has a distinct red-brick construction, and there's also Bodie Island Lighthouse, all having spectacular panoramic views.
What would you say about a casual horseback ride on the beach? This is another particular opportunity in Outer Banks that fathers and daughters can take. Meet friendly horse, take in beautiful sights and have a blast!
19. Cape Cod, Massachusetts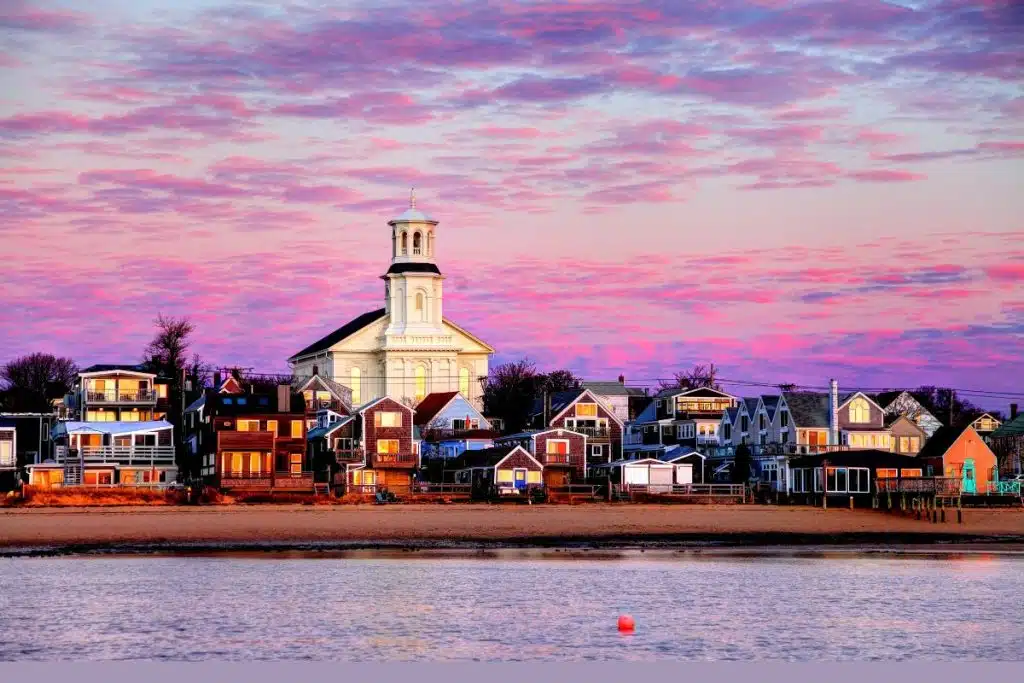 The Cape stretches for tens of miles and provides charming sandy beaches, towering sand dunes, and enticing waters for millions of tourists each year. Fifteen towns make up the urban part, each of them presenting its own shopping experience with locally-owned boutiques, souvenir shops, and artisanal markets.
If you enjoy marine animals, you'll be glad to discover that Cape Cod is known for its whale sightings, and many companies offer guided whale-watching tours. Visitors can see humpback, finback, and minke whales in their natural habitat. These magnificent mammals can be encountered between April and October, during their feeding window.
Travel around on the many scenic bike trails, including the Cape Cod Rail Trail and the Shining Sea Bikeway and savor the area's natural beauty. Make a stop at the local Museum of Natural History which displays exhibits on local wildlife, nature trails, and has interactive learning experiences.
On longer trips, make time for a ferry ride to Martha's Vineyard or Nantucket, both pretty close. In Nantucket, don't miss the Whaling Museum and the Maria Mitchell Association, which puts up educational exhibits and stargazing programs. Martha's Vineyard has a number of historic landmarks, including the Gay Head Lighthouse and the Martha's Vineyard Camp Meeting Association, a community of colorful Victorian-style cottages.
20. Santa Monica, California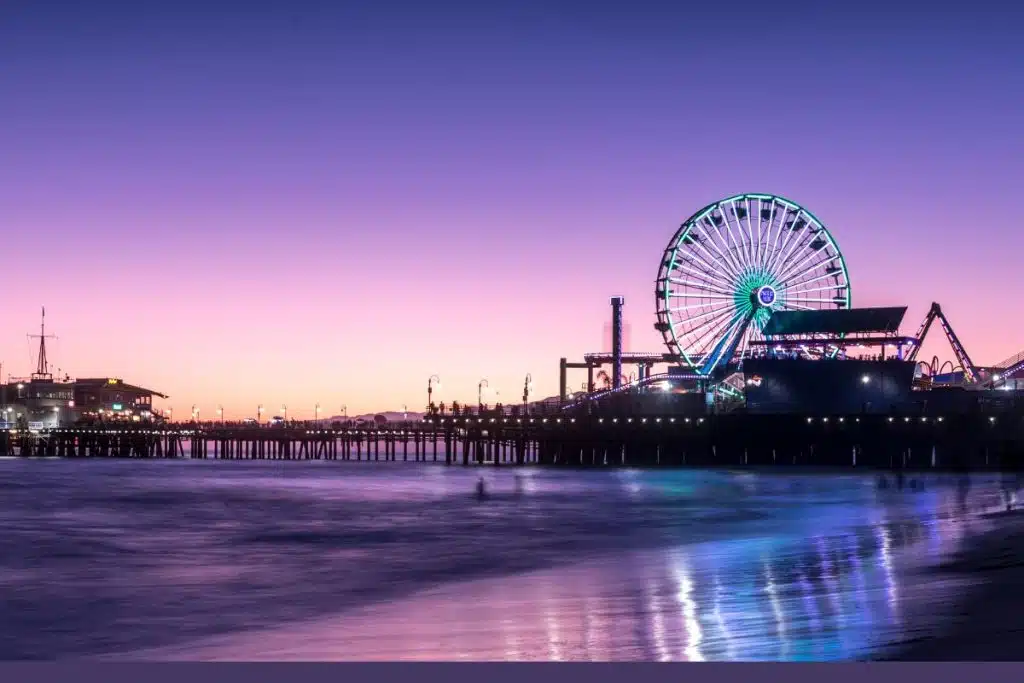 Often describes as "a very fun and lively beach town", Santa Monica has plenty of attractions and activities to pique your interest. The local Pier is a popular attraction with its amusement park rides, games and food vendors while showcasing the only solar-powered Ferris wheel in the world. The Third Street Promenade is a pedestrian-only shopping district with a variety of stores, restaurants, and street performers.
Since this is a resort town, you can certain that the beach itself is beautiful and perfect for swimming, sunbathing, or playing beach volleyball. Plenty of water sports, like surfing, stand-up paddleboarding, and kayaking are possible.
The weather is always excellent here, but in case you would rather be indoors, try the Annenberg Community Beach House. This is a public beach facility that presents a variety of recreational activities, including a swimming pool, a splash pad, a playground, and beach volleyball courts. It also hosts art exhibits, concerts, and other events throughout the year.
Many commercials, music videos, and independent movies have been filmed in Santa Monica. Academy Award-winning musical "La La Land" features several scenes shot here, including a memorable dance number right on the pier. This fourth installment in the "Pirates of the Caribbean" franchise has also stopped in the town for filming.
Road trip time!
21. Pacific Coast Highway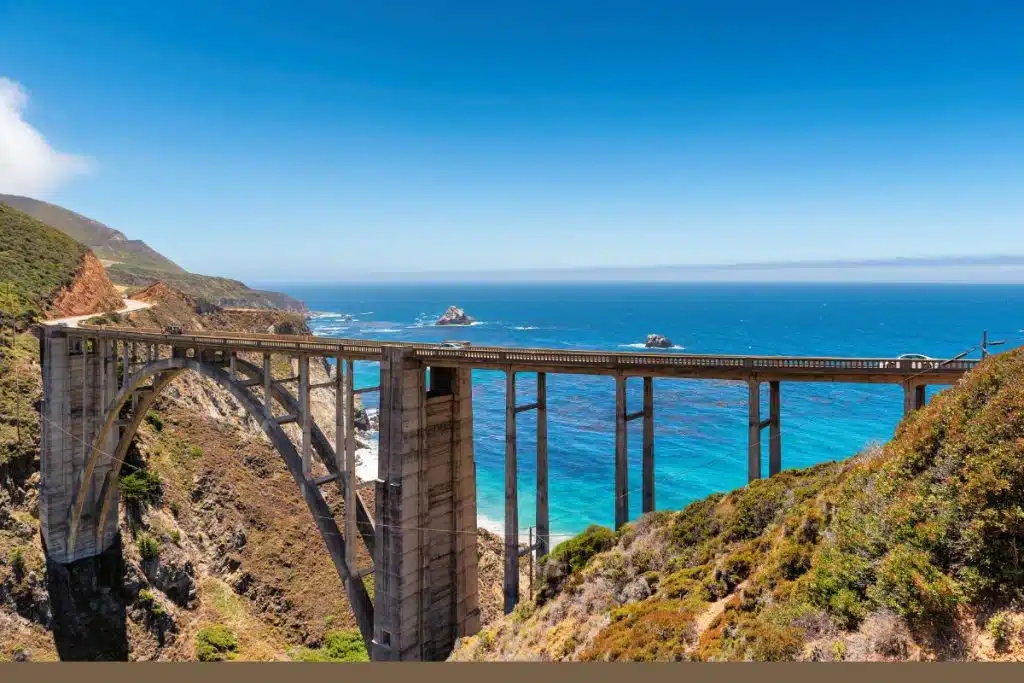 Perhaps the most scenic drive in the world, the Pacific Coast Highway (PCH) goes from San Francisco to San Diego, taking you along California's rugged coastline, winding through mountains and along cliffs overlooking the Pacific Ocean. The variety of landscapes and experiences it offers is what makes it special. You can stop at sandy beaches for a swim, hike in state parks with breathtaking views, and visit lovely towns for local food and shopping.
Go at your own pace, pick whichever stop you like, but there are certain points almost mandatory. The Aquarium in Monterey, for example, is a must-visit for animal lovers. It has over 35,000 animals and plants on display, including sea otters, penguins, and sharks. Providing a multitude of hands-on exhibits and interactive activities, this can be a fun and educational experience for children and adults alike. Interact with sea creatures, watch playful otters and penguins, and even see some of the world's largest sharks up close.
The aquarium also hosts many special events throughout the year, such as sleepovers, summer camps, and marine science classes, making it a great destination for families who want to explore and learn together.
There will be an abundance of coastal towns with excellent beaches, but you might like to consider a break in Santa Cruz. A historic amusement park can be found here, and it features rides, games, and attractions, including a Ferris wheel, a roller coaster, the giant Dipper, and even classic carnival games. This is also a surf capital, so a short surfing lesson can be just as enjoyable.
90 miles (ca. 145 km) north of L.A., Santa Barbara awaits with cultural attractions, Spanish-style architecture, and upscale shopping and dining. State Street exhibits many buildings with red-tiled roofs, white stucco walls, and wrought-iron details. Girls will enjoy browsing the shops and finding unique souvenirs and gifts to take home.
At your destination in San Diego, you will have plenty of things to do and see. The local zoo is world-famous and houses pandas, polar bears, and tigers. Balboa Park is a large urban park that encompasses a variety of museums, gardens, and performing arts venues. It would be recommended to visit the Museum of Photographic Arts, the San Diego Museum of Art, or watch a performance at the Old Globe Theater.
22. Route 66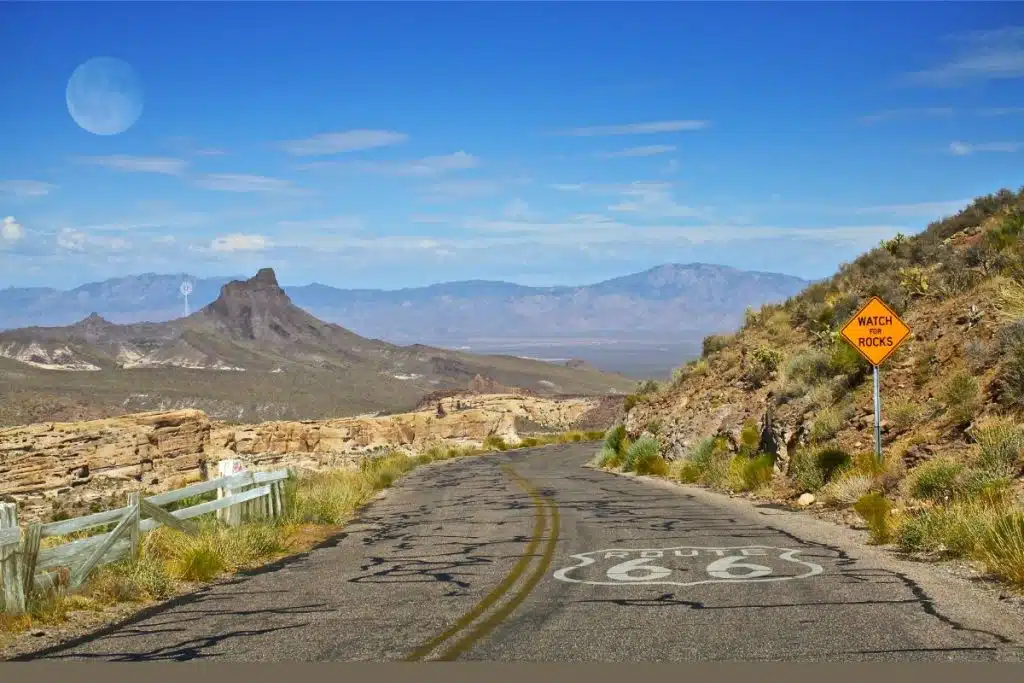 This iconic road trip stretches from Chicago to Los Angeles and is a great way to experience classic Americana – from roadside attractions, to diners, motels, and other landmarks that were popular in the mid-20th century and are still standing. It has a particular nostalgic appeal for those wanting to step back in time and experience a bygone era.
With almost 2500 miles (ca. 4,023 km) of road, there are too many interesting points to list, though amidst the highlights you'll find the Cadillac Ranch in Amarillo, Texas. This famed art installation features ten brightly painted Cadillacs buried nose-first in the ground, and it's a popular spot for taking photos and leaving your own mark with spray paint.
Check out the Petrified Forest National Park in Arizona, an ancient forest that has been turned to stone over the course of millions of years, and it's now a fascinating sight to behold.
In St. Louis, Missouri, look for the Gateway Arch. This 630-foot-tall structure is a symbol of the westward expansion of the United States, and it allows for an extraordinary panoramic view of the city. Then, maybe stop at the Chain of Rocks Bridge, a historic structure that spans the Mississippi River with a distinct bend in the middle that used to help boats navigate the river.
The Blue Whale of Catoosa in Oklahoma is honestly a bit kitschy, though in time became a hot spot for photos and picnics. It was supposed to represent a fish, though it eventually became a whale.
Drive the Wigwam Village Motel in Holbrook, Arizona. This unique motel features teepee-shaped rooms and is a great place to spend the night and get a taste of Route 66 nostalgia.
While not directly on Route 66, the Grand Canyon is just a short detour away and affords impressive views and hiking opportunities. Stay a while, enjoy everything it has to offer, and cross another amazing destination off the list.
23. Great River Road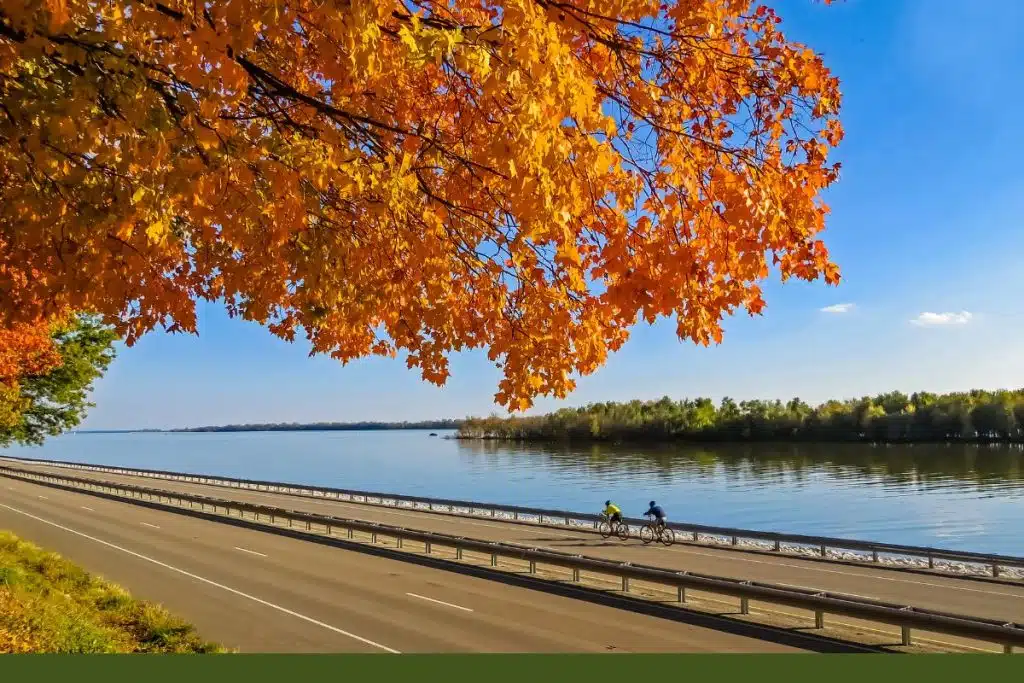 The Great River Road is a designated National Scenic Byway that spans well over 2,000 miles (ca. 3,219 km) through 10 states in the U.S., following the course of the Mississippi River from its headwaters in Minnesota to the Gulf of Mexico.
Along the route, you'll encounter numerous historic sites, museums, and landmarks that showcase the region's rich heritage, from the pre-Columbian Native American civilizations to the European explorers, early settlers, and Civil War soldiers. This road trip is popular among travelers because it offers a piercing perspective on American history and culture.
One of the first things on the list for your daughter will probably be the Mall of America in Bloomington, Minnesota. With more than 500 shops and over 50 restaurants, this is the largest shopping and entertainment complex in the Western Hemisphere. Inside, you will find a Nickelodeon Universe theme park with 25 rides and attractions, including roller coasters, a Ferris wheel, and a log flume. Prepare to be greeted by characters such as SpongeBob SquarePants and Dora the Explorer.
Any literary enthusiast will want to spend at least a few moments at the Mark Twain Boyhood Home and Museum in Hannibal, Missouri. Exhibits and artifacts there paint the story of Mark Twain's life and work. Visitors can see the desk where he wrote his famous novels, including "The Adventures of Tom Sawyer" and later "The Adventures of Huckleberry Finn". Both are classic American literary pieces that portray life in a small town along the Mississippi River.
Music fans will be delighted with the prospect of visiting two important destinations. In Tupelo, Mississippi, the Elvis Presley Birthplace and Museum, where you can see the King of Rock and Roll's childhood home and learn about his life and career. And in Cleveland, Ohio, explore the Rock and Roll Hall of Fame, which details the history of rock and roll and its impact on popular culture.
24. Blue Ridge Parkway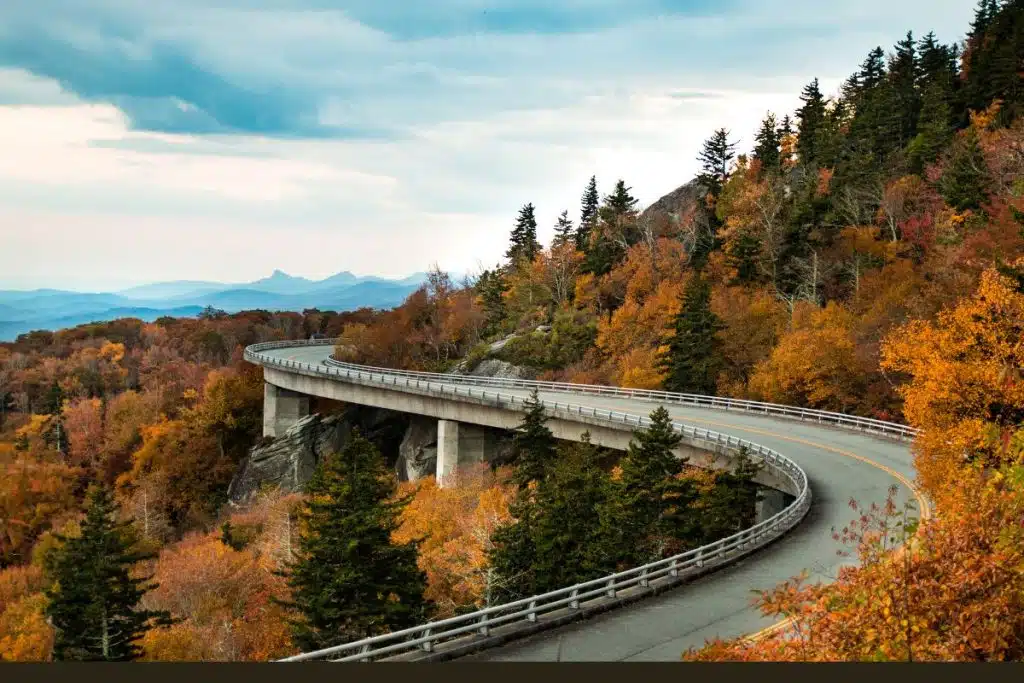 The Blue Ridge Parkway runs through the Appalachian Mountains, connecting Virginia's Shenandoah National Park to North Carolina's Great Smoky Mountains National Park. Unlike other road trips that may take you through cities or urban areas, this is mostly a scenic drive within natural landscapes. It offers a chance to escape the hustle and bustle of everyday life and immerse yourself in the beauty of nature.
Along the way, you'll have the opportunity to observe cute animals in their natural habitat. Beavers, otters, and muskrats all gather around Otter Creek. They're always doing something playful and don't mind posing for tourists. In case you've never seen turkeys in the wild, Linville Falls is your best bet. Craggy Gardens is a pretty good place to view warblers, thrushes, and vireos, as well as small mammals like chipmunks and groundhogs.
Stop by the Moses H. Cone Memorial Park and admire this historic mansion built in 1901. With 23 rooms, a large wraparound porch, several stunning gardens, including the Formal Garden, the Apple Orchard, and the Memorial Garden, you'll leave feeling enchanted.
The Blue Ridge Music Center, located at milepost 213, celebrates the music and musicians of the Southern Appalachians and is another important marker. Guests can watch live performances of traditional music, explore exhibits on the history of Appalachian music, and participate in workshops and educational programs.
The Appalachian Mountains are famed for having some of the best hiking and camping opportunities in the United States. Hundreds of miles of hiking trails, including portions of the 2,200-mile-long Appalachian Trail, which runs from Georgia to Maine, are waiting for you. Camping is pretty straightforward, ranging from primitive sites to RV parks with full amenities.
25. Music Cities Road Trip
For those who enjoy awesome tunes, live shows, and delving deep into the history of American artists, this is the one for you. Ride through several of the most famous music cities in the US, including Nashville, Memphis, and New Orleans, immerse yourselves in the culture of the greatest voices and instrument players in the world, and return home re-energized.
Nashville is a lively city that continuously influences global music. From Elvis Presley to Dolly Parton, to Taylor Swift and Camila Cabello, they've all felt the magical atmosphere that oozes in this town. The Country Music Hall of Fame and Museum, which exhibits artifacts related to the history of country music is an important spot, as is the famous Ryman Auditorium, which has hosted some of the most iconic musicians in history.
The "Home of the Blues" and the "Birthplace of Rock 'n' Roll", this is how Memphis has been dubbed through the years. Local attractions include Beale Street and Sun Studio, which launched so many musicians, and Graceland (Elvis' mansion), are all connected to American music.
To name a couple of examples, both Jack White and Justin Timberlake have cited Beale Street and Sun Studio as major influences on their music. Timberlake even recorded several songs in the city, including "Can't Stop the Feeling!" and "Man of the Woods".
New Orleans is a melting pot of cultures, with a distinct mix of African, French, Spanish, and American influences. It has a strong connection with both music and foods, so double the fun. This is the birthplace of jazz, and the city is home to numerous music venues and festivals that showcase a variety of genres. The famous French Quarter is filled with music venues, street performers, and jazz clubs, making it a must-visit destination for music lovers.
It has a distinctive cuisine, which includes dishes like gumbo, jambalaya, and po' boys. The city is also famous for its beignets, a type of deep-fried doughnut covered in powdered sugar that is a must-try for any foodie.
Hopefully, you've found a bit of inspiration among the many terrific suggestions. Don't forget to take lots of pictures, make some new memories, and most importantly, have fun!
Related: Father-Son Trip Ideas In The U.S.