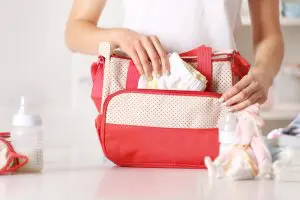 Needing a diaper bag is almost guaranteed when you have a newborn. You'll always need to be bringing changes of clothes, extra diapers and lotions, and plenty of food every time you go out with your child. Some parents purchase diaper bags specifically for organizing and carrying around all the necessary items to keep their child happy and healthy when they are out and about. Other parents choose to just use their large purses to carry all those lovely necessary items. Whichever you choose, you will soon find that with a squirmy and young child on your hands, you will always want to be able to find the necessary items as fast as possible.
Diaper bag organizers work to turn regular purses into an organized diaper bag or provide an extra organization in your current diaper bag. Unlike fixed pockets that may already be attached to your purse or bag, diaper bag organizers provide the exact storage options you need and can be removed at any time.
---
 Our Eleven Top Diaper Bag Organizers 
*All product links in this article will take you to the latest prices on Amazon.com, scroll down for our in-depth reviews below.
---
Diaper Bag Essentials
As your due date approaches, you will most likely start making up a baby registry with all the essentials you will need to care for your little one. You will then get dozens of those items during your baby shower along with all sorts of creams, lotions, diapers, and extra clothing. Each item is there to make your life easier. Unfortunately, your baby's nursery does not have wheels to tote with you whenever you go out. Instead, you will have to limit yourself to the bare necessities to bring with you in a bag in order to get by until you get home to the mother load of all infant supplies.
Narrowing down your baby's belongings to the absolute most necessary items to take with you when going out can be a real challenge. Infants can be unpredictable. Knowing whether to bring one change of clothes, or five changes of clothes is just the start of decision making. To get you at least on the right track with packing a diaper bag for your little one, here are a few basic guidelines from BabyCenter.
For Changing
Diaper bags, first and foremost, are for carrying around diapers. That is why they are called diaper bags. That first month after birth you will most likely be changing about ten diapers a day for your newborn. After that, the number starts to go down and depends on what your child is eating. As a result, you will need plenty of diapers. Figure about a diaper every two hours at least.
Along with diapers come all the other diapering supplies. You will want to bring plenty of wipes. Wipes are not just for cleaning your child when changing their diaper. Wipes will come in handy for wiping your child's face throughout the day or even cleaning yourself of spit up and other fluids from your child. Wipes can also be used to clean surfaces you and your little one may come in contact with. For example, you may want to wipe down those germ infested grocery store infant seats before allowing your child to sit in the seat and chew on the handlebar.
You may also want to bring along diaper rash cream. While not all babies need diaper rash cream, you may still want to lean towards the safe side by bringing it along. You would not want your child uncomfortable all day because you are unable to treat a rash while you are out and about.
Along with wipes, you may also want to bring hand sanitizer or some other disinfectant. This would work better for outer surfaces that your child will come in contact with. Hand sanitizer will also work in a pinch to clean your hands and a surface area before and after changing your little one if no other cleaning option is readily available.
Many diaper bags will come with a portable changing pad. These are usually not very padded, just a waterproof fold-out covering for a surface area with an attached waist belt to keep your little one secure. These changing pads will often times have a key ring or some other attachment so you won't lose them in your diaper bag.
One of the last items you will need for changing your little one is a plastic bag for soiled diapers. If there is a trash can, that is great. But, there are not always trash cans nearby to throw away the dirty diapers afterward. In addition, these waterproof bags could also hold any soiled clothing or blankets that you don't want dripping and messing up your entire diaper bag.
With diapering, you will want extra clothing for your little one. Diapers leak more than parents would want them to. You will always want to be prepared for those leaks so your child remains clean and happy. A change of clothes will also come in handy for any other occasion such as spit ups, spilled food, or them simply crawling around where they shouldn't and ending up a mess.
For Feeding
Even if you are only going out a short time, you should still probably plan on bringing food for your chid. If your child is still a newborn and formula fed, you'll be bringing a bottle and formula. If you are breastfeeding, you may want to bring a bottle and pumped milk, or even the pump itself. If you do bring edible items, be sure to store them properly. Most diaper bags will have some sort of insulated pocket. If your diaper bag does not, you can purchase an insulated cover for your bottles so that the milk or formula does not reach temperatures that could allow bacteria growth.
Those who breastfeed will have a little less to carry. You will just need a blanket or some other cover for nursing. Some nursing mothers may want to bring along nursing pads or creams for themselves. Whether you are nursing or formula feeding, you will, either way, want to remember to bring a burp cloth or some other protective covering for after feeding.
As your child ages, you may want to look at bringing along snacks for them. Cereals can easily fit in small containers and leave a limited mess. Small crackers are also great for leaving less of a mess. Larger crackers that would need to be eaten in multiple bites are more apt to leave behind crumbs. Fruits and veggies are another great snack item, though be aware that anything with too much juice will make your child messy.
Even though your child may be at the age where they can eat solids, you will still want to pack a bottle or sippy cup. You will want to make sure your child stays hydrated, especially if you will be out for a while or will be out in the sun.
For Safety
When you are going out and about, you will want to be sure you are prepared for any emergency situation. You will also just want to make sure you have the basics to keep your child healthy and safe.
Be sure to never leave your house without all your emergency contact information. You will want quick and easy access to any phone numbers in case you or your child is hurt while you are out. That way you can be assured of quick help. Other people can also find the information and be able to help you as well.
A first aid kit is something every person should consider purchasing, regardless of your age. A first aid kit will have many essentials such as disinfectant, bandaids, and wraps. These will help treat you or your child temporarily until better help arrives. If your first aid kit does not have nail clippers, consider adding them. A child can easily break a fingernail, which will then scratch them until it is cut appropriately.
Proper weather attire is necessary to prevent emergencies from occurring. Be sure to pack up warm enough clothing in the diaper bag if you may need to layer up throughout the day. If the weather is calling for rain, you may need to throw in an umbrella or raincoat to keep your child from getting wet. Sun, even if the weather is cold, should always be a reason to wear sunscreen. Be sure to bring the whole tube of sunscreen so you can reapply the sunscreen on your little one as directed. If your child is too small for sunscreen, or for extra protection, you can pack up sunglasses and hats to help keep their delicate skin covered.
Read Also: 15 Best Diaper Caddies.
For Baby
While all those other items are necessary, there are some items you may want to bring with just for your child. Depending on where you go, you may want to bring some sort of entertainment. Small toys and books are great to throw in your diaper bag and bring with. Older children may enjoy crayons and a coloring book for entertainment at restaurants or people's houses.
Childhood goes by so fast. You may want to be sure to always have a camera with you. This way, you can capture any significant moments in your little one's life. You may also just want to record your child's adorable outings. Today, most people are able to record pictures and videos on their phones. Just be sure you have enough battery life and storage space available before heading out.
 For Mom
Your baby will not be the only one who uses the diaper bag. You will probably find it easier to use the diaper bag as both a purse and a diaper bag. As a result, the diaper bag should be large enough to accommodate those usual items you would carry with you.
You will want a diaper bag with easy access to your necessities. These would include your wallet, keys, and phone. You may also want to bring any extra items like sunglasses, snacks, and a book.
Your child will not be the only one who should bring a change of clothes. Your child may have a diaper leak or spit up at any point, even while they are in your arms. While you child may need multiple changes of clothes, you may only need one change. You could even just get away with only packing an extra shirt.
 Packing Tips
Everything listed may not fit in a regular diaper bag. While many diaper bags are very large, an all-day trip could require a bit much for even the most heavy-duty diaper bag. This is why it is great that not everything actually needs to be packed in a diaper bag. You can leave extra clothes and diapers in a caddy in your car. This way, when you go to your destination, you will always have the back-up plan of running to the car for refills on anything in your bag.
You will want to be sure that any liquid or creams are in sealable plastic bags. This will keep them from leaking and making a mess in your diaper bag. Bringing extra plastic bags is always a good idea in case you receive other wet or messy items throughout the day that need to be contained.
Pockets are a glorious thing! As you have already noticed, your child will require quite a bit of care when you go out. All those items will need to be stuffed into one bag. When your child needs an item, you will then need to dig through your diaper bag to find the one item. Some items are necessary to have quick access to. If your child uses a pacifier, you will want that readily accessible if your child starts to cry. Snacks should be able to be gotten quickly if your child is hungry and starting to grow grumpy. Pockets allow you to organize your belongings so that you can grab what you need when you need it. 
Read also: 12 Best Diaper Pails.
Types of Diaper Bag Organizers
While pockets are great on diaper bags, sometimes those pockets are not quite enough to keep everything separated and easy to get to. This is where diaper bag organizers come in handy. They add that extra little organization to an otherwise endless pit of baby items.
There are two main types of diaper bag organizers. First, there are the diaper bag inserts. The diaper bag inserts are small caddies that are set inside your diaper bag. The caddies have additional pockets and dividers to help create separate spaces for each of your supplies.
These diaper bag inserts are great because all your items are visible and right there when you open your bag. The insert can easily be taken out of one bag and placed in the next. The downside of diaper bag inserts is that they are a fixed size. While they are usually made of a softer material or felt that can be somewhat bent to the shape of your purse, ultimately, they only fit a specific size and shape of purse or backpack.
The second type of organizer is organizer pouches. These are a collection of organizational bags or pouches. They come in many different sizes and shapes. They are often times connected on a key ring to keep them together. You can then pack up each of your items in these pouches separately, and be able to access them quickly. You can pack as many or as little as you'd like so that they can fit in nearly any of your bags. The downside of the pouches is that they are multiple separate bags so access is not always as easy as an insert which is laid out right in front of you. Organizational pouches will still require a minimal amount of digging around your diaper bag. 
Diaper Bag Organizers' Features
Diaper bag organizers have many different features that make them more useful than others.
The main consideration is seeing which organizer would be able to organize your items the best. This would mean first looking at the fit of your bag and which organizer option would best fit your diaper bag, and to look at the number of pockets or pouches available to keep your things separated.
To make things even more organized, some pouch organizers have labels on top or on the side. This will help you know exactly which pouch holds which items. It will cut down on the time you would otherwise have spent digging through your diaper bag to find a specific pouch. Other pouch organizers have mesh pouches so that you can simply see what is inside each pouch.
When you place items in the organizer, you will want to make sure they are secure. You will be setting down your diaper bag, lifting it up with one hand while balancing a baby, or hanging it on a stroller that will go bouncing down the road. As a result, you will want to be sure your organized items remain organized. Check for zippers or other closures with your organizer that will help keep your items in place despite the everyday jostling of your diaper bag.
Out of the pockets that are available, waterproofing is one feature that will be very useful. There are many items for your little one that can become messy or hold a liquid of some sort. Waterproof organizers help contain the mess. A waterproof organizer will also be easier to wipe down between uses to make sure it remains sanitary for all your little one's items.
Being able to easily switch between bags can be a very useful feature to have. Diaper bag organizer inserts often times have a small handle or even a removable carry strap. This allows the insert to be easily switched from one bag to another, or removed completely if the items need to be carried on their own. Organizer pouches, on the other hand, usually have a key ring. This key ring keeps the pouches together and makes it easy to grab out all at once from one purse before moving them to another purse.
---
11 Best Diaper Bag Organizers Reviewed
The BES CHAN bag in bag organizer is an insert organizer that is made to fit in backpacks. Backpacks are one of the more convenient diaper bag styles as they let you be handsfree to carry your child. This insert will help keep that cavernous backpack a little more organized in the main center compartment.
The organizer is  7.68 inches x 4.92 inches x 10.63 inches. Other sizes are available ranging from small to medium, to large. The insert can stretch as wide as 4.7 inches, or be as thin as .8 inches, depending on how much is put inside the insert. It is made from 100% nylon. This makes it easier to wipe down. The nylon is also waterproof as to keep any messes at a minimum. This also makes it very lightweight so you will not notice that much-added weight from the insert.
The insert has some great pockets and organizational features attached. The small size has four small outer pockets, one zipper pocket, and one large compartment. The compartment has two more elastic topped pockets as well as a mesh pocket. A keychain near the top allows you to easily clip your keys or other small necessities where you can quickly retrieve it. A handle lets you pull the insert out in order to move it to another backpack or bag. There are snaps to secure the insert when it is not in use so that it can be stored easier.
Pros:
The insert has plenty of pockets for all your needs.
There is a zippered pocket for valuables.
The insert is waterproof.
The insert comes in differing sizes to fit all your backpacks.
Cons:
The insert is only made for backpacks.
The nylon material is not stiff enough to hold its form on its own, so it tends to collapse on itself.
The nylon is not sturdy enough to stand up to long periods of wear.
Many of the pockets are on the smaller side.
This insert is very useful for all mothers who use backpack diaper bags. It fits great and adds extra pockets to your diaper bag. The insert's pockets do tend to be smaller, so they may not be best for extra clothing, diapers, or any other bulk items. Small trips where you need fewer odds and ends will fit nicely in the insert and remain very organized.
---
The Kumako Handbag Organizer bag is not specifically designed for diaper bags. Just because it is not designed for a diaper bag, does not mean it couldn't be used in one. While many diaper bag organizers are made of nylon and other waterproof materials, this diaper bag organizer is made of felt. The benefit to felt is that it tends to be sturdier and it is also stiffer so the pockets will hold their shape and the insert will not fold in on itself. The insert comes in multiple common colors so that you can either find one to match your bag or choose a lighter color to make it easier to find items in your bag.
The Kumako insert has four exterior pockets for some of your medium-sized items. There are then eight smaller pockets inside the main compartment of the insert. The insert has three larger organizational cubbies that can be attached inside the organizer with Velcro if you needed the extra organization. Otherwise, these additional cubbies can be removed, providing a large center compartment for diapers and clothes, or any other larger item. The entire organizer measure around 10.23 inches x 5.9 inches x 5.9 inches.
Pros:
There are plenty of pockets, including the removable center cubbies.
The felt is plenty thick and sturdy for long use.
There are multiple color options.
 Cons:
The insert is not waterproof.
There are no zip pockets for valuables.
The middle cubbies do not have bottoms, so smaller items can slide between the cubbies.
This is a more sturdy option for those who pack quite a bit for their little one. While the regular nylon inserts are great for cleaning and waterproofing your bag, they tear easier. This thick felt will give extra padding and security for your bag so both the insert and your diaper bag will last longer. Because it is not specifically designed for a diaper bag, you will miss out on some helpful diaper bag features such as pockets designed around common diaper bag items, but if you rather an organizer that lasts than an organizer that is convenient, than this organizer may be a top choice.
---
The Diaper Bag Insert Organizer for Stylish Moms by MommyDaddy&Me is a very versatile organizer insert option for your diaper bag, car, and home. It is sturdier than some of the thinner organizers, while still being lightweight and easy to fit in most diaper bags. The insert measures 11.8 inches x 7.9 inches x 6.3 inches. There are multiple color options available.
The diaper bag is made of a waterproof material. This will help keep your diaper bag from getting soiled as well as make it easier to wipe it down between uses. The insert also has a handy, removable shoulder strap so that you can easily carry it from one bag to the other. It could also be used on its own as a regular caddy that you keep in the car.
The diaper bag organizer insert has twelve pockets. There are six pockets on the exterior for any number of smaller items. Inside the insert is a large main compartment as well as six larger pockets for additional items. They are large enough for bottles and clothing.
Pros:
The insert has plenty of pockets, both large and small, to organize all your items.
A carry handle makes it easier to transport the insert.
The insert is waterproof.
The insert comes in multiple different colors.
 Cons:
This is a smaller insert.
The bag is made out of cheaper materials.
This diaper bag organizer is very handy with the many pockets and the carry handle. The main downfall of this organizer insert is its size. It is much smaller than most of the other inserts. This would work for smaller purses that you will use for shorter excursions. This insert will not be a good choice for regular to larger diaper bags and all the items needed to be packed for longer trips.
---
The KF Baby Diaper Bag Insert Organizer is a smaller insert that fits nicely in most purses and diaper bags for a little extra organization. It is one of the most affordable diaper bag organizer options available. It is waterproof which makes it great for keeping your purse clean and wiping the organizer down between uses.
The organizer is approximately 12 inches x 6.4 inches x 8 inches. The outside of the organizer has multiple slim pockets for smaller items. The inside of the organizer has a divider that makes six different compartments to keep larger items organized. The dividers are not attached to the bottom of the organizer, so smaller items should not be kept in the main compartment area.
Pros:
This is one of the most affordable diaper bag organizers.
There are six larger compartments for organization.
The organizer is waterproof.
The insert comes with a strap.
 Cons:
This insert tends to give off a very chemical smell that is hard to wash out.
This is a smaller insert.
The center compartments are not attached to the bottom.
The KF Baby Diaper Bag Insert is one of the more popular insert types of diaper bag organizers. It is very affordable while still maintaining decent quality. The pockets are a little frustrating as you have to choose from either small outer pockets or the large center compartments that are not attached to the floor. There are many items that are too large for the outer compartments but would slip between the center dividers if stored in the center compartment.
---
The Diaper Bag Insert Organizer for Stylish Moms by Sleeping Lamb is a convenient insert that can double as a regular diaper bag. This insert measures 12 inches x 8.07 inches x 5.9 inches. It is made from a durable, waterproof material that makes it great as a diaper bag insert as it is easier to wipe down between uses and keeps your diaper bag from getting soiled.
The diaper bag insert has eleven total pockets both inside and out of the diaper bag. Four of the pockets are located on the outside. The other seven pockets are located inside. Most of them are elastic topped pockets, while one is a zippered pocket for valuables. The diaper bag insert has two handles that can be used to carry the insert as a tote, or a shoulder strap to use the insert as a shoulder bag. The shoulder strap can be removed when it is used as a diaper bag insert.
Pros:
There are plenty of pockets and organizational options.
The insert has handles so it can be carried on its own.
The insert is waterproof.
 Cons:
This is a smaller insert.
The material is cheaper in quality and rips easier.
The diaper bag organizer insert by Sleeping Lamb is a very versatile option that can be used not just as an insert, but also as a regular diaper bag. It has all the options and features that make diaper bag organizers easier to use. The only downside is the lower quality that makes this insert not very long lasting.
---
The Comicfs Baby Diaper Bag Insert Organizer is a very affordable, simple diaper bag insert organizer. It measures 12 inches x 5.4 inches x 8 inches. The fabric is a light, durable material that is also water-resistant so that it can contain any messes and easily be wiped down between uses. The insert is available in two different colors: black and gray.
This insert does not have any extra bells and whistles. It is a simple central compartment with dividers inside. The dividers are not connected to the bottom. As a result, you will want to store your smaller items in the pockets of your diaper bag or purse. The insert is best used for just organizing larger items that cannot slip underneath the dividers. When the insert is not in use, it folds very compactly together for easy storage.
Pros:
The insert is very simple and light.
The material is water-resistant.
It is very affordable.
 Cons:
There aren't any extra pockets for better organization.
The insert is not very stiff, so it collapses easily.
The cubbies are too small for larger items like diapers and wipe packs.
This is a very simplistic insert. If you are not looking for over a half-dozen pockets as well as all the other features than this insert would do the job. It helps to keep larger items separated in your purse or diaper bag, while also keeping your bag clean. It is best for smaller outings as it cannot hold very much.
---
The Gadikat Diaper Bag Organizer Pouches take diaper bag organization a different route. Gadikat's organization involves five separate bags that are each a different size in order to fit in nearly any diaper bag or purse. The five bags are not only different sizes, but they each also have different functions.
All five bags are waterproof so that they contain any mess and are easier to clean. The largest bag has a wide bottom and is perfect for those large items you need to grab quickly. The next sized bag is a 2-tier wet and dry bag that can store your little one's soiled clothes without soiling the rest of the diaper bag. The last three are small, medium, and large mesh bags for general storage.
Each of the bags can be easily identified using the different colored tabs on each bag. All five bags are the same fashionable design. The bags can be transported in two different ways. The first is by connecting them all to a wrist strap. You can grab the bags at a moment's notice and throw them in any purse, just by easily grab them all at once using the wrist strap. If you are making a short trip, you can unattached a single bag, attach a shoulder strap, and carry it as a purse at any time. All bags have a top zipper and an outer pocket for additional storage.
Pros:
The bags are all different sizes so that you can choose what will best fit in your specific bag.
The bags are color coded to better know which contains what.
The bags can be attached to one another for easy transportation.
A shoulder strap and wrist strap come with the bags.
There is a wet/dry bag included.
All the bags are waterproof.
 Cons:
These are one of the most expensive diaper bag organizer options.
The bag's quality does not match the price.
These diaper bag organizers are very versatile. They can not only be used inside a diaper bag, but also as a regular purse. There is a bag for nearly any item you may need from wet and dry to a large bottomed bag for a pump or other larger item. Unfortunately, their quality is not quite up to par as their price seems to suggest. Replacing these bags when they start to rip will cost a little more than some of the other bags with equal quality but lower prices.
---
The sugarSNAP Files A Set of 5 Mesh Diaper Bag Organizer Inserts is the organizer's dream. They are the filing cabinet of diaper bags. The bags not only provide separate areas for each item they also make finding those items a much faster process. These bags come in a variety of bright and fun colors.
There are five bags total in this set. The five bags are connected at the corner by a key ring that can be attached to your purse, or just be a handy way to grab all the bags at one time. Each bag is a slightly different size. All the bags are made with one mesh side. This means that none of the bags are waterproof, though the back of the bags is a solid water-resistant material. The front mesh allows you to see inside the bags so you always know what is in each of your bags.
The mesh siding is not the only way you can tell what is in each of the bags. The top of the bags all have labels. The largest bag is called "Snacks and Supplies.†It is a great size for bottles, food, and other feeding supplies. The next size is called "shirts and socks.†It is still plenty large to pack those extra outfits for your little one or throw in a plastic bag of soiled clothes if necessary. The middle bag is called "diapers and wipes,†and it is just large enough for a container of wipes and a couple diapers to last you throughout the day. The second to the smallest bag is entitled "me and mine†which is made just for mama's supplies such as wallets, keys, or any other small items you'd need to bring with you. The smallest bag is called "lotions and potions†which is just large enough to hold any of those important lotions or other medical supplies to keep your child healthy and happy while you are out and about.
Pros:
The bags are made of a mesh so you always know what is in each bag.
The bags all connect together for easily switching between diaper bags.
These insert bags come in a variety of fun and fashionable colors.
They are good-quality insert bags.
There are labels making it easier to find what you need.
 Cons:
These are one of the more expensive diaper bag organizer options.
There aren't any waterproof bags for soiled items.
These inserts are one of the most popular ways of organizing your diaper bag. Many mothers love the higher quality and the great labels that make these organizers any organized mother's dream. Just be aware that they are all mesh. This is not a deal breaker, as you can easily use plastic bags for your soiled items, or place your lotions in zip loc bags before putting them in the mesh sugarSNAP organizers. That way your items remain safe, while you can still see what is in each bag through the mesh siding.
---
The J.L. Childress Diaper Bag Organizer is a very distinct set of five diaper bag organizer insert bags. Each bag has a unique look and function. Each bag also has its own color and design, yet all five bags coordinate nicely as a set. The set comes in two different color scheme choices.
The five bags are designed to look different enough so that the parent will have no issue in finding the right bag with the item they need. There is a waterproof bag that is great for wet and dry items in order to keep your soiled clothes separate. This bag has a zipper on the top and a mesh pocket on the outside so that your dry clothes stay separate from your wet clothes. A bag designed for diapers and wipes also has a wrist strap so that the bag can easily be carried by anyone who is taking the child to be changed, without having to tote the entire diaper bag with them. A small accessories bag has a drawstring top and is perfect for toys, pacifiers, other small odds and ends items for your child. A large feeding bag has enough room for bottles and burp clothes as well as any other items you may need to keep your child fed and happy. A personal bag is designed stylishly for mom's items. It is the perfect size for phones and keys, as well as having slots for credit cards. A wrist strap allows mom to grab the small personal clutch out from the diaper bag whenever she needs to run a quick errand without having to bring the entire diaper bag with her.
Pros:
There is a waterproof bag included in the set.
The bags are all different sizes and patterns so they can easily be distinguished from each other.
There are multiple color options available.
All the bags have their own personal carry handle.
 Cons:
There is no connector to keep the bags together.
The material is slightly cheaper in quality.
TheseJ.L Childress organizer bags are neither the cheapest nor the most expensive option. They fall right in the middle in price and quality so that you get the best of both worlds. The patterns are attractive and easy to differentiate so you can still quickly grab just the right bag you need. As long as you don't need high-quality bags that will last through heavy use and long periods of time, these bags can be great for your needs.
---
The Sugarbooger Diaper Bag Organizer Pouches are a more natural organizational option for your diaper bag. These are one of the very few organizer pouches that are made from 100% cotton. This makes these bags easy to throw in the washing machine between uses. While the bags are cotton, they all have mesh siding so that you are still able to see what is inside each of the bags.
There are four bags in this set. Each bag is a different size. All four bags are white, but they have a different color of stripe and an identifying image that will help you know exactly what is in each bag. The two largest bags in the set are the clean bag and the dirty bag. You may want to consider placing your soiled items in a plastic, sealable bag before putting them in the dirty bag in order to help keep the bag clean. The middle-sized bag is labeled "goodies†with an image of snacks indicating that it is designed to hold feeding items and small snacks for your child. The smallest bag is titled "extras†with an image of a pacifier. This little bag is perfect for those random little accessories and toys you will want to bring with for your little one.
Pros:
The bags all have unique designs to help keep them separate.
They have mesh backs to help you see what is inside each bag.
The price is more affordable.
They are machine washable.
 Cons:
None of the bags are waterproof.
The quality is not very high.
The bags tend to shrink in the wash and become considerably smaller.
The bags do not connect to each other for easy transportation.
These bags have a great idea but are not the best quality to achieve their goal. There are fewer bags included in this set than other similar products, and they are not as good of quality as other similar products. While the cotton material is nice as it washes easily, it also holds in stains and smells more than the regular water-resistant nylon-type material that many other bags have. There are many features to be liked with this set, but many parents just found the item wanting.
---
The Diaper Bag Organizer Pouches by MOTHER LOAD is a colorful and fun option for keeping your diaper bag organized. There are five same-sized bags included in this set that can fit in most diaper bags and purses. The bags are made from water-resistant nylon to help keep your diaper bag clean by containing any spills and messes inside the bags.
The bags are all a similar size and shape. While they are the same in that respect, they do have different colors to help distinguish one from the others. Four of the bags have nylon on one side and mesh on the other so that you are better able to see what is inside the bag. These four bags also have stitched pictures identifying their use. A blue bag with a diaper picture can be used for all your diapering supplies. The blue bag has a coordinating changing pad included with it. An orange bag with a shirt image can hold your clean clothes. A yellow bag with a bottle image is great for snacks and feeding items, while the green bag with the toy picture can hold all the extra items like toys and accessories for your little one. The fifth bag is a red bag that is completely enclosed. It has an image of a soiled shirt and is made to keep your dirty or wet items separate from the rest of your things.
Pros:
The bags are very distinct with their color-coding and pictures.
There is a wet bag included that can hold soiled items.
The other bags have mesh so you can see what is inside each of them.
They all have wrist bands to be easily carried on their own if needed.
They are machine washable.
A changing pad is included with the diaper pouch.
Cons:
These are little more pricey.
The quality is not quite as high as the price would warrant.
The bags are all equally big, so there aren't any smaller bags included that could be used for smaller diaper bags.
These MOTHER LOAD organizational bags are very useful and easy to identify in your diaper bag. The bright colors on top of the images make them one of the easiest to identify when finding your items. This pack also has more than other packs offer due to including a wet bag as well as a changing pad. Carefully consider your diaper bag's size before ordering these, as they are all the same size, so if one does not fit, none of them will fit.
---
And The Winner Is!
Finding a good diaper bag is more important than finding a good organizer for your diaper bag. Once you found that perfect diaper bag, you then find an organizational tool that will fit your specific bag. These organizers will both help keep your items organized as well as prolong the life of your diaper bag itself.
Cheap plastic bags can be purchased from a store to be used to organize and separate your items, but you will not have the convenience, durability, or identification features that organizational tools offer. Organizational bags are much more versatile than the organizational inserts when it comes to fitting them in any of your diaper bags. In this way, you would only need to purchase one set and it would fit all your bags. The smaller bags may only be able to fit the smaller organizational pouches, while the larger bags could hold the entire set.
Of the organizational bag sets, the set by the MOTHER LOAD is one of the best options. Many of these sets appear very similar in their offerings. MOTHER LOAD has the most distinct bags, with their vividly differing colors of pouches and labels. The bags also have the most features with the mesh siding bags, wet clothing bag, and even a changing pad. This makes MOTHER LOAD's diaper bag organizer the best choice in diaper bag organizers.